(Note: the Emotional Bookmark can be ordered at EmotionalBookmarks.com. The story of this child-run social enterprise follows.)
Three weeks ago, I sat beside my daughter as she was reading Lord of the Rings, and noticed the bookmark she was idly toying with as she read.
The bookmark was clearly handmade by her (some years ago), with bold colourful text saying, "How This Book Makes Me Feel," and simple cute smiley expressions giving her different emotion options, with the emotions labelled. She's always crafting delightful things like that.

"Eowyn, that's so CUTE!" I said. There was a 2 second delay before a thought struck me: "Do you think this could help other kids??"
When my kids were younger, following the advice of emotional awareness proponent Dr. John Gottmam, I had encouraged them to label how they were feeling to help them take control of their emotional world and become not just healthier children but healthier adults.
Just about 30 seconds later we had all unanimously decided we just discovered our next family business. Time to level up from the usual lemonade stands, baking, and shoveling/raking baking that have constituted our family businesses to date.
Motivation for the Emotional Bookmark
We're in the middle of the COVID-19 pandemic. School is cancelled and the kids are home feeling underutilized. A current of uncertainty and distress pervades society.
By sharing the Emotional Bookmark, my kids are hoping they can help other kids around the world become more emotionally aware.
  Emotional awareness is well known to serve as healthy armour against the stresses life can sometimes throw our way.
Starting this business also helps my kids stay active, supplement their remote school learning, and save for some expensive gymnastics training they are hoping to pursue in the fall.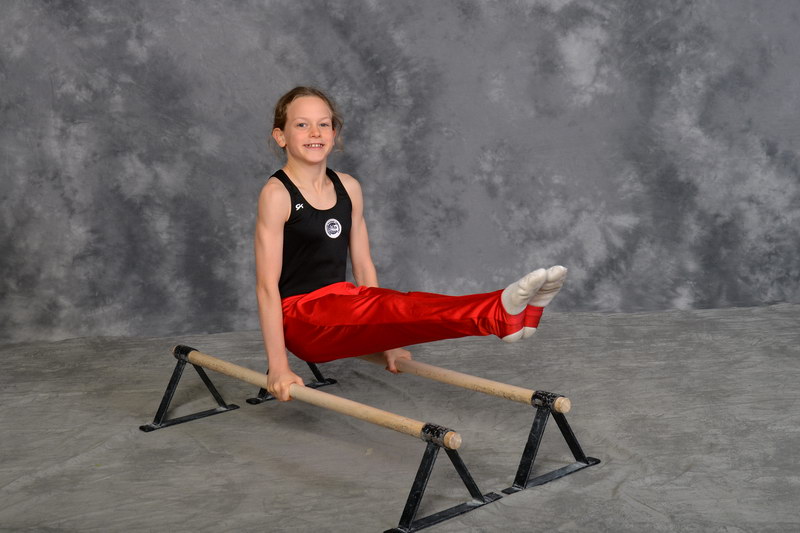 Running a family business is also a fantastic way to connect and stay connected as a family.
This post chronicles our process to start this business so that other people and families can see how easy it can be to setup their own location-independent and semi-automated small business as part of designing their ideal life.
Due Diligence – Competitive Research
So now we had the idea. Ideas are cheap—if you keep your eyes out and mind open, you'll encounter many as you go about your daily business.
The trick is to write them down so they aren't forgotten and assess which align with your skill set, interest, and lifestyle goals. Then, to execute and execute well.
I recognized right away that this idea ticked all the right boxes:
It contributes meaningfully to society
It's simple and inexpensive to implement
My children can lead it as part of their education in entrepreneurship
But is the idea unique?
A quick Google search then a Google Images search did not readily reveal any competing products in the domain of emotion charts on bookmarks.
Good to go!
Bookmark Branding
The rest of the day, we casually brainstormed different names for the product and ways that we could advertise it.
We figured that people who heard of our product might search "emotion bookmark" but that didn't have the right ring to it for a product name. When my son suggested "The Emotional Bookmark" we all agreed it was a clear winner—I liked that both keywords were in the name, and loved the personification.
We searched the Canadian and US trademark databases and found no conflicts.
Later that night, for $7.99 CDN, we purchased our new domain EmotionalBookmarks.com and a business was born.
Marketing
In my experience, the most important question for success of a small business is this:
How will people know it exists?
I really really don't like advertising or sales. Spending money adding to the advertising noise, and cold calling disinterested people is pretty much my LEAST favourite thing to do EVER. So I decided long ago I can only start businesses that provide a product or service that people actually want and that has a story that is easy to tell.
The importance of emotional awareness in children is very well-known now. Family therapist John Gottman, Ph.D., of the Gottman Institue, writes in Raising An Emotionally Intelligent Child that children whose parents encourage emotional awareness

have better physical health and score higher academically
get along better with friends, have fewer behaviour problems, and are less prone to acts of violence
experience fewer negative feelings and more positive feelings

Dr. Gottman further suggests that helping our children develop a higher level of emotional intelligence through building stronger emotional bonds with them can help protect them from a wide variety of maladies such as antisocial behaviour, drug addiction, and depression, and give them resiliency during family conflict and divorce.
We were pretty sure parents would see the benefit of an inexpensive and omnipresent reminder for kids to check in with their emotional world
especially during the safe but emotionally stimulating activity of reading,
and especially during the pandemic days when kids are home and reading more and at the same time feeling increased stress and anxiety.
Add to that the cuteness of an emotional-awareness business designed and run by kids!
We hope this combination of factors encourages parenting blogs and parenting communities to help spread the word initially.
We also started dreaming that maybe, one day, adolescent counsellors, schools, libraries, and bookstores might have a supply on hand too!
Design of the Emotional Bookmark
Next we needed to actually design it! We didn't want to infringe any copyrights so we decided to create our own expressions—we thought we could do a better job than Apple anyway 😛
Before we could start drafting expressions, we had to decide which emotions to present. We figured a 3×4 grid was about the right size so we had to come up with contenders for 12 slots.
First, we brainstormed all the main reading-related emotions we could think of, and where two emotions were similar we decided which matched best.
Next, we pulled up some emotion wheels and charts to see if we missed any (we had).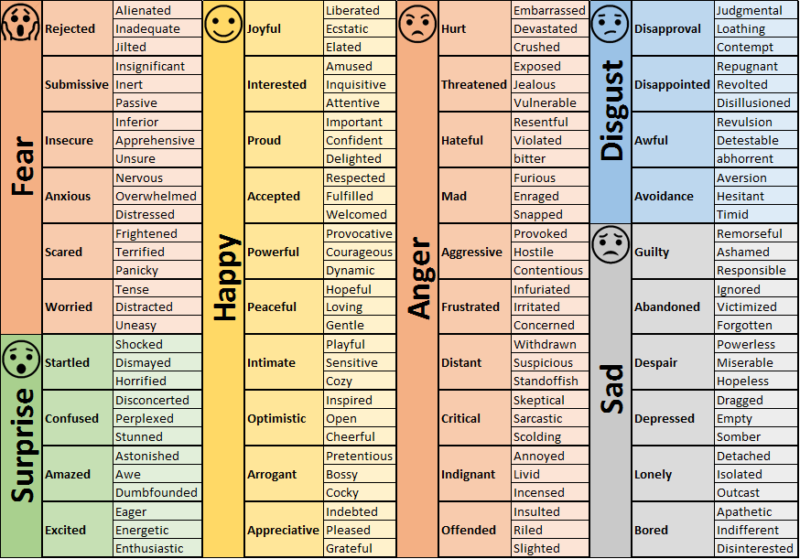 We also made sure we had balanced representation of different categories of emotions, and we further narrowed which of several similar-sounding emotions we thought most appropriate.
At this point we circulated our list to a few trusted people, including the children's grandmother who was a Grade 1 teacher her whole adult life, and based on their input settled on our final list:
Happy
Sad
Surprised
Angry
Excited
Disgusted
Bored
Curious
Frustrated
Anxious
Inspired
Silly
Each child then came up with 1 to 3 different designs for each emotion (big eyes, small eyes, eyebrows on or off, different curves and shapes, etc.)
Certain designs were clear winners, others were less clear so we chose the best of the bunch and then kept experimenting and refining until we had something we all really liked. This all took place over a few days.
We ended up using most of my son Elias' designs almost exactly as first drawn.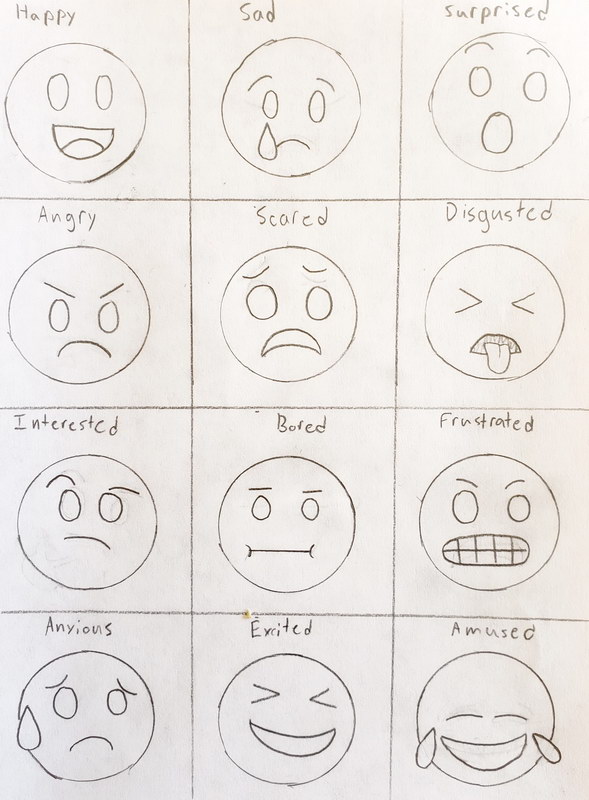 Finally we bumbled around in Adobe Illustrator to create a mock-up. I helped create the shapes, which only took about 2 hours, and Eowyn focused on the colour selection and text layout, which took another few days. Nice gradient, Eowyn! Aerial acted as consultant and helped decide between options.
We had a hard time deciding how to layout the main text so circulated four designs to friends and family for input.
Out of this process we obtained a unanimous winner!

Website Creation
Setting up a website for the first time, unless you are using an online builder, can be a lengthy process with a lot of learning stages. Fortunately I've been through that process many times, so getting the skeleton site live without content or customization took only about an hour.
I don't personally use builders because it's important to have your own domain, a privilege I don't want to pay more than $10 a year for (i.e. the domain registration cost), and I like having full control of the materials. Setting up a free WordPress site with a free template on the inexpensive DreamHost server I'm already paying for satisfies these criteria and is…well…free.
By the way, I do offer a service getting your first website up and running and training you so you have the skills to do it entirely by yourself the next time. You can contact me with your requirements if you might want a hand.
So in less than 2 weeks we almost had a complete digital design and a website—good start.
Design Refinement
I'm cursed with a bit of perfectionism so it took another week of episodic tweaking to
get all the shapes on the bookmark exactly aligned and all the colours just so, and
perfect the formatting, wording, and whitespace on the website.
But then in the end I can feel proud of the result.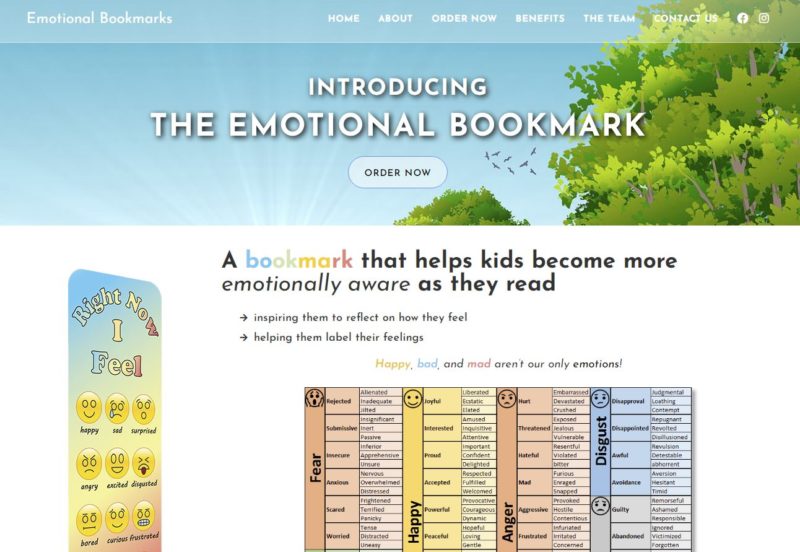 Bookmark Production
Early on I searched "print shops for bookmarks in Canada." With a gazillion results and a reasonable per item printing cost, I knew this wouldn't be a business challenge.
After a week becoming unexpected experts on paper weights and finishes (there are more options than you would imagine!), we had our first production run in hand.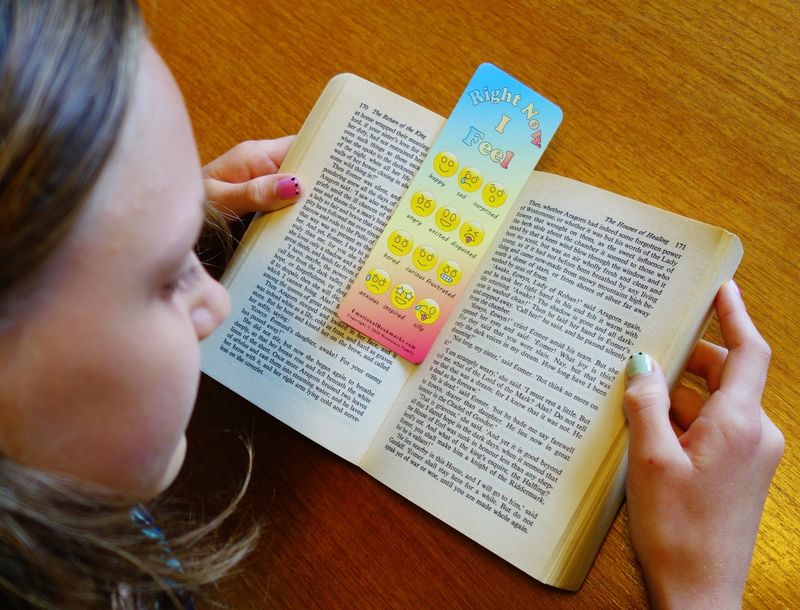 Order Fulfillment
If you've read any of my other articles, you know I'm a big fan of automation–doing the work up front so you can make money towards infinity without much further work. The most elegant way to handle this business would be to have orders processed and mailed by a dropshipper.
I don't have experience with dropshipping but a brief search leaves me dubious about how cost-effective it would be–we can look at that once we have the volumes later on. To start, we always have the Hennessey Assembly Line to stick stamps and addresses on envelopes, so again no problem there.
Our first production batch arrived just in time to mail out our first orders–there was a lot of smiling that day 🙂 🙂 🙂 🙂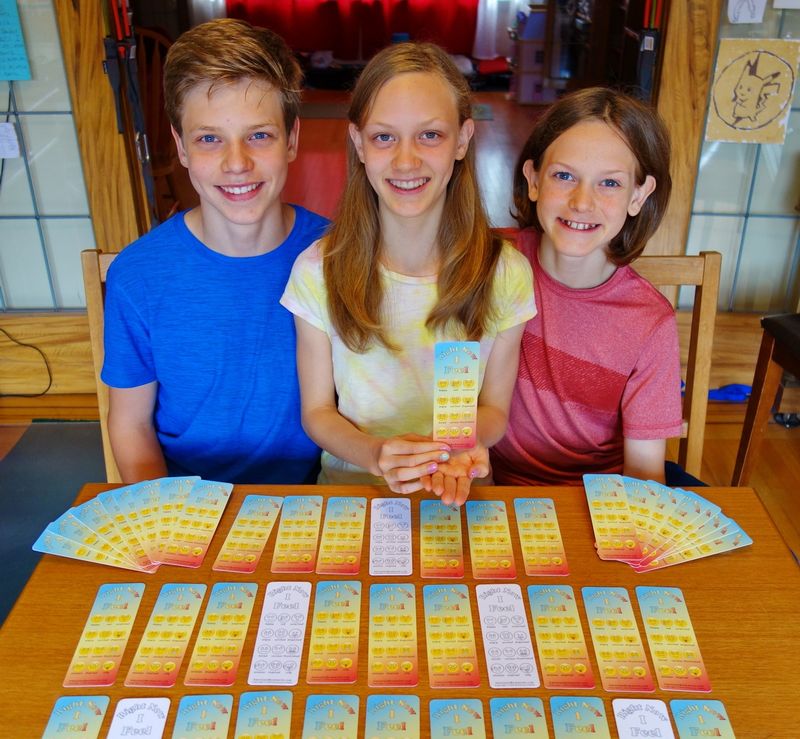 Voilà, business complete!
Next Step – the Emotional App
We'd love to follow-up with an emotion-focused app for children. Details on that to come 😉
Sharing the Love
Our family practices gratitude for what we have by giving, so we were already planning to give a portion of all sales to children's charities–some of our favourites are Compassion Canada, World Vision, and Plan Canada.
Then Rachel, who has been giving us ideas throughout the project, directed us to Kids Help Phone and suggested we include an option during ordering for specific donations to their meaningful work–what a fantastic idea, so we did.
After all, it's a scientific fact that
  The joy of giving lasts longer than the joy of getting!
Contact
Would you like to buy the Emotional Bookmark for yourself or your kids? Do you have a blog where you would be willing to give us a mention?
If the answer to either of these questions is yes, I know three eager children that would be oh so appreciative!
We also very much welcome other ideas of how they can share this product–if you have any thoughts, please let us know below 🙂
---
Affiliate Disclosure: Some links on this page are affiliate links to products or services that we personally use or would confidently use and believe in. At no cost to you, we may earn a small percentage if you make a purchase. These links help keep this site running so thank you for your support!