For a number of years, my favourite destination in Mexico was the Riviera Maya, the stretch between Playa del Carmen and Tulum, principally because the cenote features are so darn cool with so many to explore.
However, my love of surfing is even greater than my love of cave exploring and so I found my new home away from home in Sayulita.
A Sayulita Love Story
Puerto Vallarta had never been on my must-visit list, but I found myself there spontaneously one Christmas. We only had a few days, but keen to surf we hopped on a 1-hour bus to make an afternoon visit to the small town of Sayulita. I was instantly entranced.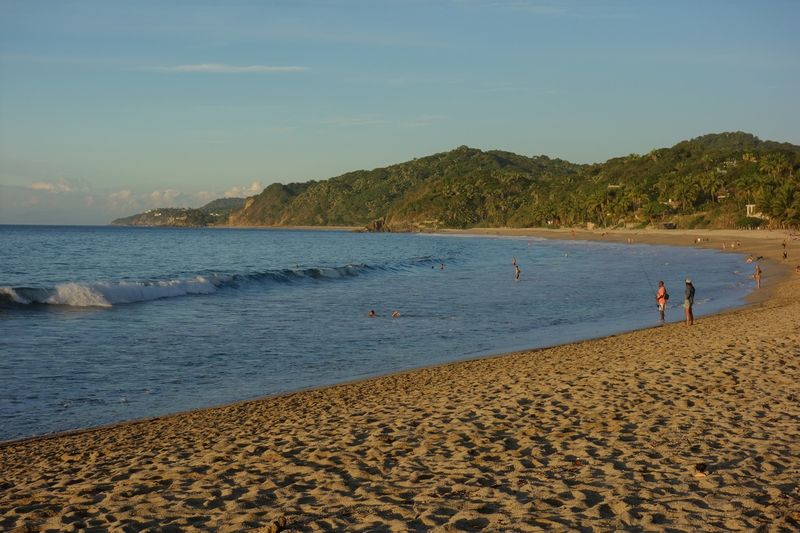 The attractively curving bay lined with palm trees is my exact favourite character of beach.
Magically, there was a highly accessible easy/intermediate surf break direct from the main beach and a beginner area for teaching just beside.
The town itself is just large enough to have plenty of restaurant options radiating from the cute central plaza and a happening vibe, without being too big.
When I travel, I typically travel. Move every night or 3 and see and do as much as possible. For the first time, I told myself I had to return here, and let this town be my destination. To trade some Canadian winter for eating tacos and guacamole and surfing…and working if the mood struck.
Fortune seemed to hear my plan as a new discount airline started offering direct flights from Vancouver to Puerto Vallarta shortly after…tickets were cheap! So last winter I put the plan into action and setup shop in my new Mexican home.
Here I share with you a few of my favourite discoveries, for that time in the not-too-distant future when borders re-open and freedom reigns.
---
Sayulita Beach
South Beach
The south side of the beach near downtown is where you'll find most of the people. Restaurants and bars set up on the sand and there's a friendly beach break for wading, body boarding, and learning to surf.
Surfing in Sayulita
From the south side of the beach here you will easily spot the main surf break just a handful of meters to the right and out to sea, which gets some really fun waves of various sizes over the rocky bottom. Even this small party wave is a blast: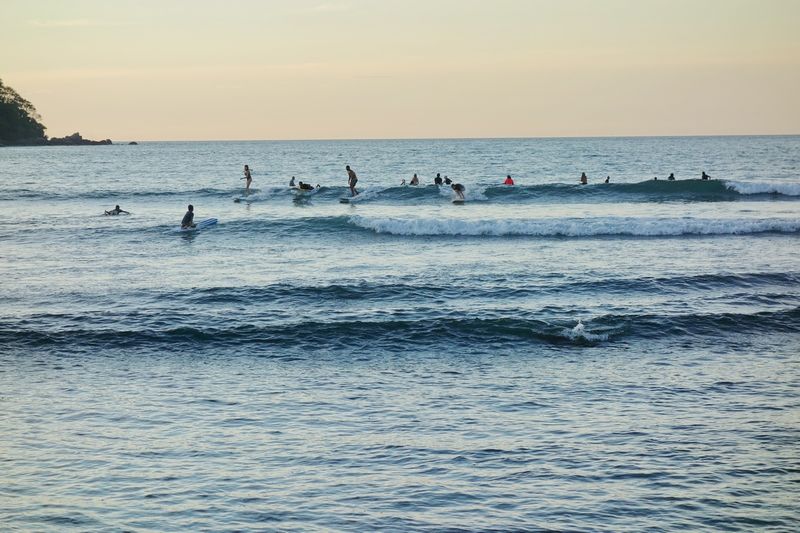 Be aware of the tide and its relationship to water depth to avoid ending up too shallow and getting urchin spines in your feet.
There are lots of places to rent equipment along and near the beach but Patricia's was my favourite. For other nearby breaks, check out WildMex's surf break map.
North Beach
North of the surf break you'll find the output of the seasonal river and the remaining three quarters of the beach on the quieter north side. This section makes for perfect beach runs and strolls.
A Note on Sayulita Water Quality
At one point the town was suffering some growing pains and the water had become unswimmable due to improper wastewater treatment, but new equipment solved that problem decisively. Don't worry about old posts you may find.
I fear further infrastructure problems as demand exceeds capacity but that's another story.
---
Playa los Muertos
For a little variety, you can take the short walk to Playa los Muertos (named for the graveyard you pass on the way), with its supposed higher quality sand and water.
To get there, head to the south end of the beach and continue walking past Villa Amor Hotel. Head through the gate and continue down the hill past the colourful graveyard. You'll find the beach on your right.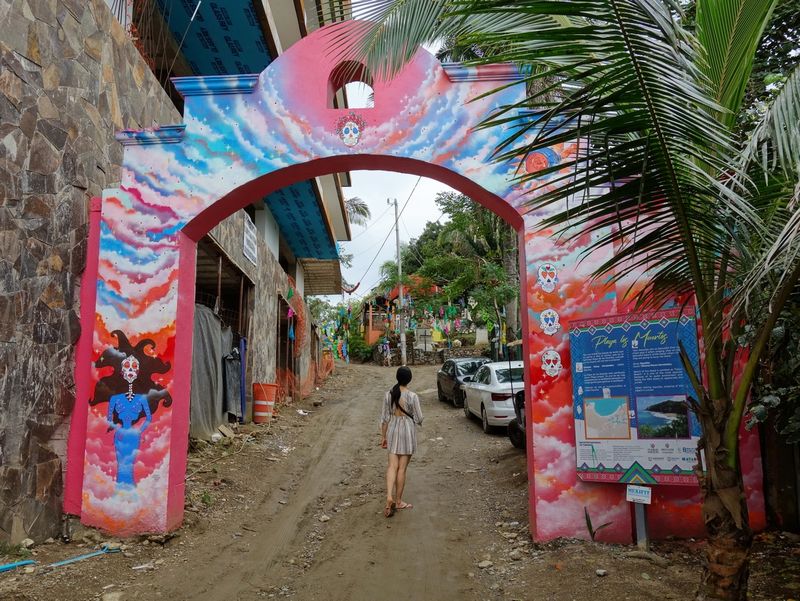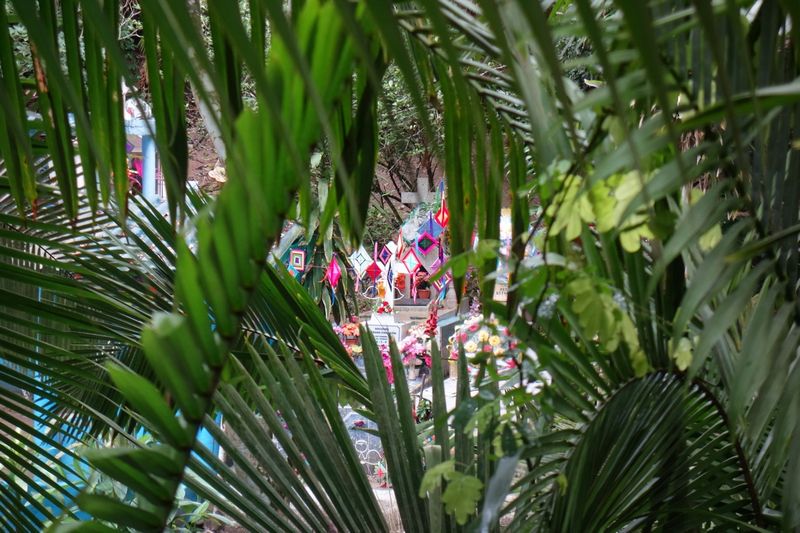 Playa Carricitos / Escondida
To extend your jaunt into a half day, from Playa los Muertos you can follow some mostly deserted roads through the jungle to Playa Carricitos and Playa Escondida. You'll have these peaceful west facing beaches almost to yourselves.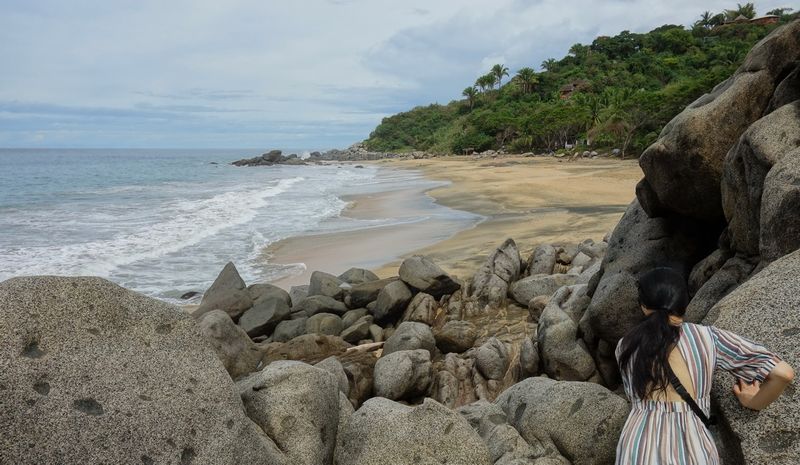 Walk to Playas Mal Pasos & Las Cuevas
Just north of Sayulita, Playa Las Cuevas (the caves) and Playa Mal Pasos wait to be discovered. Follow the links for some good walking directions.
Hike to San Pancho
You can hike to San Pancho beach at San Francisco, the next town north, or take a direct bus from Sayulita.
Daytrip to Punta Mita & Islas Marietas
Personally I'd only recommend going out of your way to visit the small abandoned-resort-feeling town of Punta Mita if
you have your eye on a dive or snorkel trip to Islas Marietas and the mysterious sinkhole-style beach-through-a-cave Playa Escondida / Hidden Beach, or
are surfing at La Lancha.
Punta Mita is the launching point for several such excursions: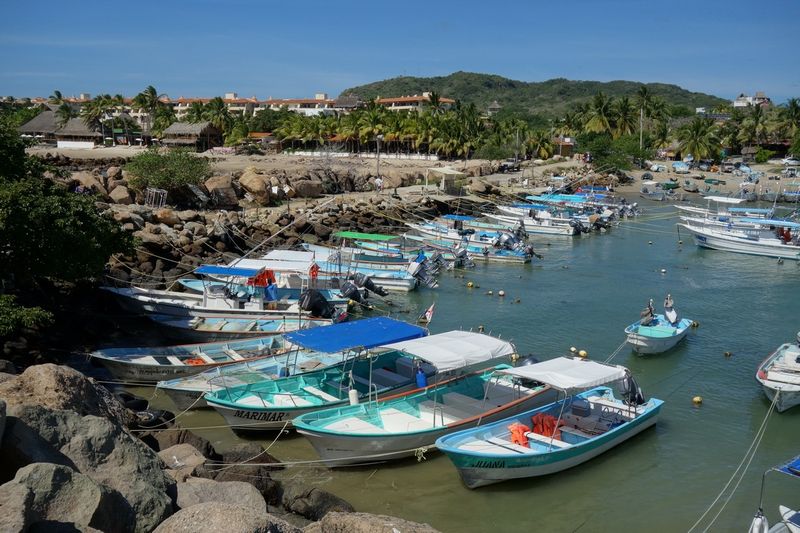 To get from Sayulita to Punta de Mita by bus, take the Compostela bus that runs between Puerto Vallarta and Sayulita (if you took a bus to Sayulita, it's the same one) and get off at Bucerias Centro. Cross the highway and get on the bus marked PUNTA MITA on the front. You can also make this transfer closer to where the highway splits to Punta Mita but it might be less obvious.
La Lancha
La Lancha is en route to Punta Mita and offers superior surfing and some interesting beach exploring. Rentals are available at Wild Mex but be aware getting to the beach requires a fair walk.
Visit Bucerias
I haven't been to Bucerias so I take this input with a grain of salt but some people have said it's "less touristy, less young party crowd, better strolling beach, more local, cleaner."
I wouldn't believe this until visiting for myself as such impressions are highly subjective but if you have visited both towns, please share your comparison in the comments below.
Visit Chacala
Here's another town I may explore on a future visit. Highlights: it's a fishing village boasting outdoor nature activities like waterfalls and crocs.
---
Dining in Sayulita
***El Jakal
Best coconut shrimp EVER!!!
25p fish taco good value
Could eat here almost every night
Bit out of the way from town but it happened to be right next door to where I was staying–LUCKY! 😉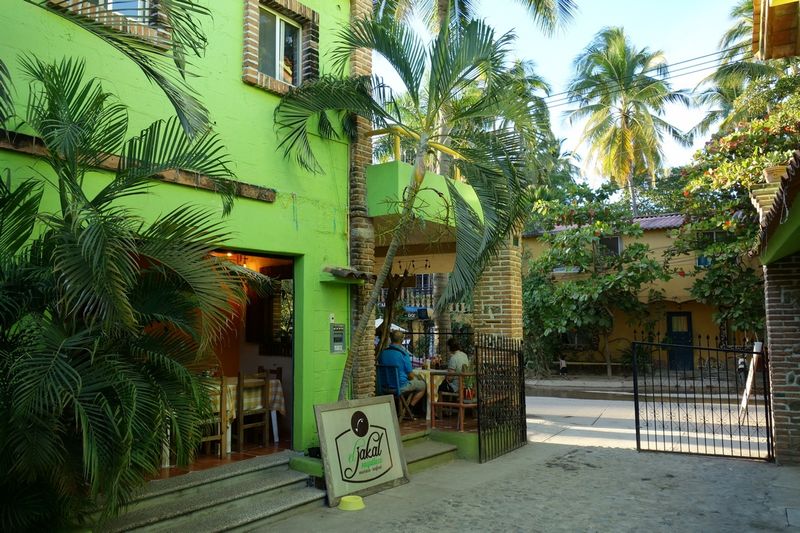 **Tacos Prietos
40p fish taco VERY GOOD
25p beef also very good
*Tacos Tal Ivan
Basic cheap late night tacos
***Other Taco Stand (Unknown Name)
There's an even better pop-up taco stand some evenings one block west–try the quesadillas, you won't be sorry!
***Organi-K
100p+ smoothie/acai bowls, my go-to breakfast, SO GOOD 
***CocoBanana
25p coco banana YUM, what's more to say?
***Churro Stand
YES!
Near Organi-K some nights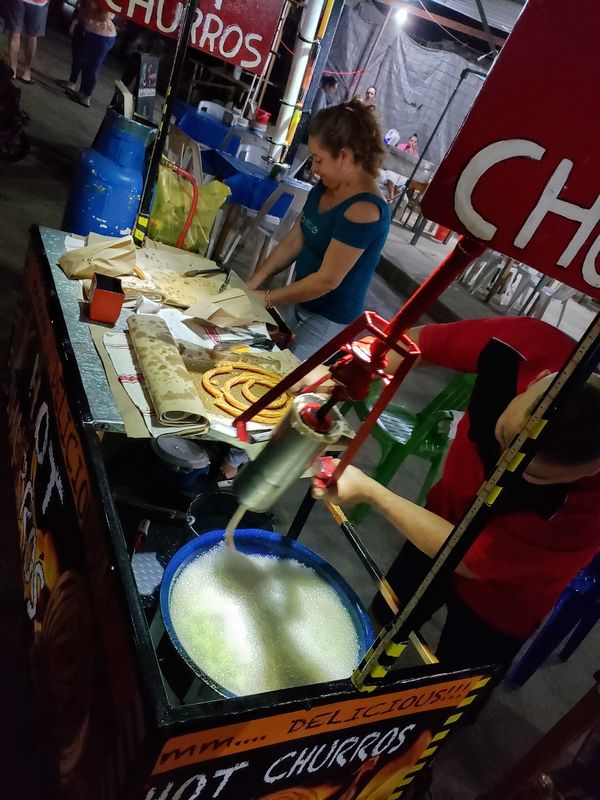 *Venezia Pizza
Thin crust
Across from El Jakal
*Yeikame
Typical Mexican but on the more pricey end
*Mary's
Mixed fajitas great
Margaritas suck
*Burrito Revolution
Serious attitude (unpleasant)
Good fish burrito
Passion fruit margarita interesting
Getting to Sayulita from Puerto Vallarta
Unless you have a rental car, taxi or bus are the main options:
Bus

If you're not getting in super late and travel reasonably light, the bus is an easy and cheap option. Step outside the terminal, stay left and head to the highway, cross the pedestrian overpass, and wait for a bus with SAYULITA written clearly on the front. Have pesos ready (30 per person at the time of writing).

Sure it'll take an extra 20-30 minutes (1-1.5h total depending on traffic) but you'll get a taste of life as a local and can spend the money you saved on a couple of coconut shrimp dinners.
Taxi

Tip: Catch a taxi from the same spot as the bus instead of from inside the terminal for some big savings.
Your Favourite Town?
What are your personal favourite towns in Mexico? I'd love to hear below!