Cenotes offer a special type of exploration for both tourist and traveler. Combining snorkeling/diving/freediving and exploration of mysterious natural spaces, they hold a special place in my heart.
The Yucatán peninsula is made of dissolvable limestone, and all fresh water is carried through underground tunnels in the rock—there are no rivers or streams or lakes.

To make the story even more bizarre, the tunnels were formed from an asteroid collision above that weakened the limestone—the very same collision that extinguished the dinosaurs with an energy release of 10 billion WWII atomic bombs.
The openings to these tunnel systems are known as cenotes.
Over the course of several visits to the Yucatán in a 5 year period, I've visited and documented as many as possible, allowing me to share these reviews and comparisons of my favourites.
There are so many options, and I had a frustrating time deciding which to visit based on similar-looking photos and general descriptions alone, so I hope my ratings will help you answer the question of which to visit in the limited time you may have in the region.
(Representative photos of cenotes are a real challenge because you need an underwater camera with good low light ability, and sometimes a wide angle for the tight space. Few of us have such a camera–I certainly don't! You'll just have to visit to see how great they really are.)
---
Gran Cenote *****
If you only visit one cenote, Gran Cenote near Tulum is a solid choice.
From the main chamber you can explore a vast area, with stunning backlighting of the underwater stalactites and columns (and your friends if they're brave enough to swim down) as you move further into the caverns and away from the light.
Even on your own without a guide, you can find channels where the roof is just over head and you have to squeeze between limestone features or briefly swim under them to air pockets on the other side to push deeper into the cave. An underwater light is necessary and make sure you assess the risks involved.
There's a tube swimming passage, this one much more friendly with a high ceiling and shallow water over sand (shown in one of the photos below), that connects the two main skylights. Fish will swim out of your way as the bats fly overhead.
On the other side, you can again see the sky, and if you explore around the edges of this portion of the cenote there's an interesting perspective of a narrow sand shelf falling diagonally into the depths. Freediving into this space gave me the creeps.
Both skylights have stairs leading out of the cenote system, with platforms and bridges to relax and take photos from many different vantages. There are lockers available, and bring your towel as it gets cold.
Within a short drive, or even a bike or walk (I've done all three), you can visit Cenote Calavera and Carwash.
---
Casa Cenote *****
Casa Cenote is different from most of the others, yet equally magnificent in its differences, making it a fantastic choice to add for variety.
If you're only going to visit one though, go with a more quintessential cavern style cenote such as Gran or Dos Ojos. All being near Tulum, you can add Casa to the same day as visiting one of these others.
To get a sense of Casa, picture a serpentine estuary and a long pool, and combine these two pictures in your mind. That's Casa!
Swim up Casa's sparkling and shimmering turquoise water for a long ways while hemmed in by verdant mangroves that send their roots into the water to create texture and patterns in tandem with the contours and blocks of the cenote floor.
If diving, you can swim directly to the ocean, otherwise it's just a stone's throw away, making it easy to spend a whole afternoon here.
---
Cenote Dos Ojos ****
Dos Ojos: "two eyes", representing the two openings to the sky connected by one cave.
This cenote is a huge favourite for divers, but while more expensive than others it's still incredibly satisfying to snorkel and provides a noble introduction to the Yucatán's cenotes.
I enjoyed the cave features even out of the water.
This cenote is about 4/5ths of the way to Tulum from Playa del Carmen
---
Cenote Calavera ****
"The Skull" aka The Temple of Doom is in a family's backyard, as many hundreds of cenotes happen to be. It is worth a visit though if you are checking cenotes in this region off your list (it's near both Gran Cenote and Carwash)—you don't need much time here.
What makes it unique is the jug-like nature of this hole—to get in, you jump from the lip. To get out, you use the ladder in the centre of the bowl. Both the ladder and the prospective looking upwards from underwater provide some really unique shots.
To add to the movie-themed theatrics, there's a halocline for divers, which is a sandwich of waters of different density, giving a "fake surface", glass-like effect right in the middle of the water. So cool!
---
Cenote Cristalino ***
The next three cenotes are open style–less of a cave and more of a cross between a swimming pool and a pond. These three are also pretty much right beside each other, 2/5ths of the way to Tulum from Playa del Carmen. Definitely a local's hangout (especially on Sunday).
There are still lots of features to explore around the perimeter with snorkel though. If you have time, you could add one of these to your itinerary—I recommend Cristalino or El Jardin del Eden.
Cristalino offers a nice jump off point for diving and flipping, underwater cave areas for poking around and taking atmospheric photos above & below the surface, and a minimally expensive, maximally relaxing way to pass the afternoon.
---
Cenote Jardin del Eden / Ponderosa ***
Similar to Cenote Cristalino but more pool than pond–that is, it feels deeper with less rock features and vegetation to push through.
Jardin del Eden has stair access on either end of the great oval pool, with sunning blocks in the middle, and a high jump to test your bravery. Climb the tree and jump from a limb for a little extra vertical!
Ponderosa is one of the main entrances to the overall cave system so it's a popular spot to dive and to learn to dive.
---
Cenote Azul **
Again similar to Cristalino, this time more pond than pool, with lots of features and things in the water (living and inanimate).
---
Cenote Carwash / Aktun-Ha **
Another open style cenote, what makes Carwash unique is the number of trees in the water, giving a moody and somewhat spooky vibe.
There's a deep area off the side good for jumping & diving. Maybe it was the time a day, but this cenote was very quiet.
Apparently taxi drivers would wash their cars using this cenote's water, hence the name…not the best selling feature. But being near Gran Cenote and Cenote Calavera, it's easy to stop by.
---
Cenote Chaak Tun
I've biked here twice from Playa Del Carmen and had two very different experiences, and both incomplete.
The first time I arrived it was closed but we were generously allowed to swim in the smaller cave independently and for free—we were the only ones there! It was very dark, with atmospheric lighting, and I thoroughly enjoyed it.
The second time, I was told the only way to visit was by tour (for "liability" <$cough%%EDITORCONTENT%%gt; reasons), which I wasn't interested in, so unfortunately I can't review the experience. Being so close to a major centre, I guess they can charge a premium this way.
If you don't mind tours and the associated expense and only have a short time in Playa del Carmen, this could be a good choice.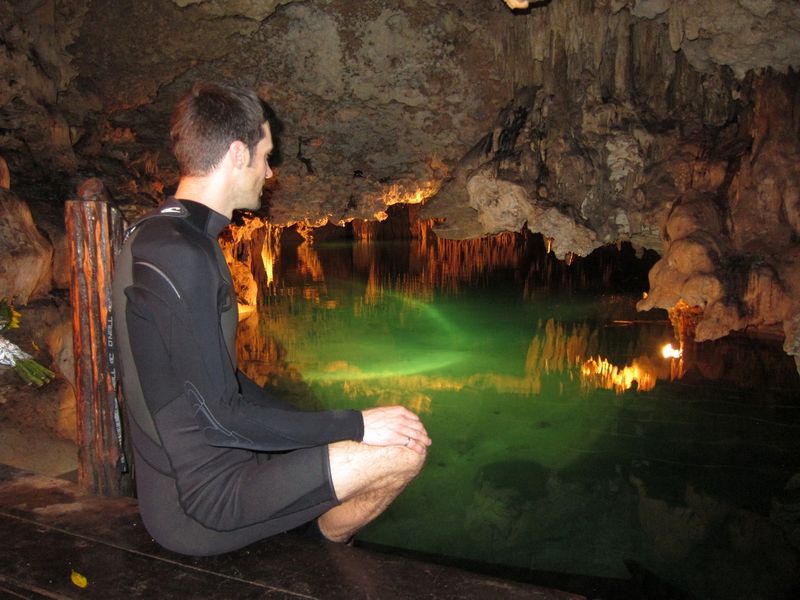 ---
Cenote Chac Mool
Near Puerto Aventuras between Playa del Carmen and Tulum. Apparently great for divers. Cenote Kukulkan is directly beside.
---
Cenote Taj Mahal
I did not visit this cenote as I hear it's best for divers and I was snorkeling this trip. Definitely worth considering if you dive.
---
Cenote Cristal (Naharon) & Cenote Escondido
These are twin cenotes of the swimming pool variety. Escondido (translates to Hidden) is apparently better. Very clear, good snorkeling, rope swing, little used. South of Tulum.
---
Cenote Angelita
From what I hear, this sinkhole goes straight down, with fantastic visibility the first 100ft (30m) (including of some impressive stalactites), and an atmospheric cloud of hydrogen sulfate for another 100ft below that. Check it out on Google Images. Even further south of Tulum.
---
Cenote Tamcach-Ha
I regret that I didn't have time to visit Tamcha-Ha when I spent the day at Coba. I would have loved to see the spiral staircase running underground and enjoyed the 5m and 10m jumping platforms.
---
Cenote Aktun Chen
An "Eco Park" with zip lining, a dry cave tour, and cenote. I prefer self-exploration as close as nature intended so took a pass on this one. Near Akumal.
---
Cenote Ik Kil
Not close to the rest listed (therefore not shown on the map), but no list of Yucatán cenotes is complete without mentioning Cenote Ik Kil near Chichen Itza.
If you've seen a cenote photo, it's probably Ik Kil, with spiral stairs carved into the well-shaped wall and hanging roots. I'll stop in on a future cross-Mexico adventure.
Or visit one of the many thousands of others and give us your own review below!