Canadian Rockies vs the World
I've climbed mountains all over the world, but until two years ago I had never hiked in the Canadian Rockies. I was a fool! They seemed "too far away" considering I have mountains all around my home city. But this fool has been enlightened.
In 2018 I put together a crew of outdoorsy world travelers for a two week hiking roadtrip through the Rockies. We did a circuit of most of the parks—Banff, Jasper, Yoho, Glacier, Revelstoke–doing a selection of the most iconic hikes in each.
The beauty of these parks and hikes was so moving, I realized I had no need to fly across the world in search of new outdoor adventures (for now).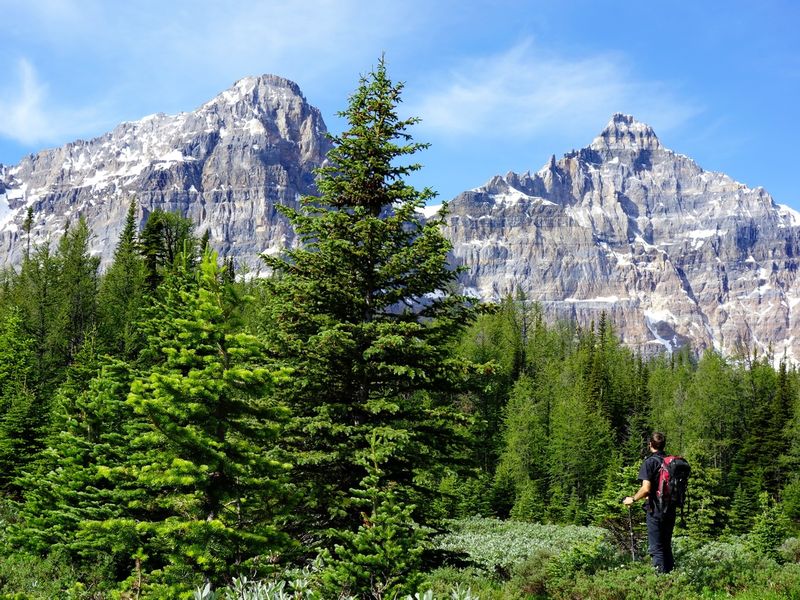 Especially given our current environmental crisis, carpooling 9 hours across my province instead of hopping on a plane seems like a good compromise, and just plain logical.
There are SO MANY HIKING OPTIONS in the Rockies. Each different, each STELLAR.
So I planned another Rockies hiking roadtrip in 2019 (and will again next summer…and the summer after that…and and and), similar route but different hikes and adding in Mt. Robson and Wells Grey.
Drawing on my experience of what worked and what didn't and which hikes & attractions were best, I now present to you the Best One Week Itinerary in the Canadian Rockies!
The Best Canadian Rockies Itinerary (1 Week)
Activity
Day 1
Drive Vancouver to Glacier National Park (635km 7h)
Visit Bridal Falls & Othello Tunnels
Stop in Sicamous & Revelstoke
Day 2
Drive to Lake Louise (135km 1.5h)
Hike the Plain of 6 Glaciers & Beehives (20km 6h)
Day 3
Walk through Johnston Canyon
Visit Banff Town
Soak in Banff Upper Hotsprings
Day 4
Drive the Icefields Parkway
View Bow Lake & Walk Bow Summit
Visit Mistaya Canyon
Hike Parker Ridge (5km 2h)
Visit Athabaska Glacier & Icefields Centre
Day 5
View Sunwapta Falls
Visit Jasper Town
Visit Maligne Lake
Hike Bald Hills (13km 4h)
Day 6
Walk Malign Canyon
Soak in Miette Hot Springs
Day 7
Hike Edith Cavell Meadows (9km 3h)
Drive the Icefield Parkway
Day 8
Visit Moraine Lake
Hike Sentinel Pass (11km 2-3h)
and/or Hike Wenkchemna Pass (17km 6h)
Day 9
Drive to Okanagan (425km 5.5h)
Visit Wineries
Day 10
Return Drive to Vancouver (390km 4h)
Day 1 – Vancouver to Glacier
You're headed to the Rockies! I'm so happy for you! This area is truly one of the Wonders of the Natural World…on par with Patagonia, the Himalayas, the Alps, and the ranges I've explored in the Yukon & Alaska.
Most people who can't roadtrip over will fly into Calgary or Vancouver. From Calgary, Banff is just a 1.5 hour drive. From Vancouver, it's 9 hours.
If you have the time, Vancouver is a nice choice to get a sense of this attractive city and an overview of Beautiful British Columbia since you have to drive across the WHOLE THING (west to east anyway). While in Vancouver, don't forget to invite me for a craft beer!
I'll describe a round-trip route from Vancouver, which adds 3 days to your Rockies itinerary (1 day there, 2 days back).

If driving from Calgary, most people will start in Banff, so just swap Day 2 and Day 3 in the below itinerary.

I'll mention enough add-ons you can easily create a Canadian Rockies two week itinerary, and I'll suggest how to trim a day from the one week itinerary, but I strongly recommend at least 5 days.
Route Details
You have a few route options for the first half of the trip (use the icon at the top left of the map to turn on and off different routes):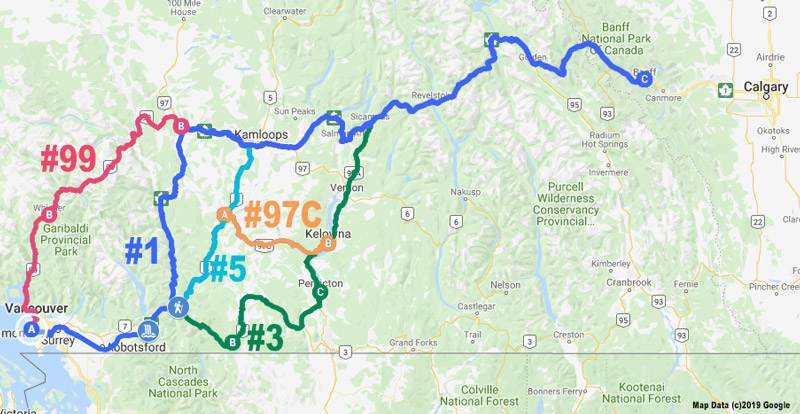 1. Highway #5 (Coquihalla)
Pros: shortest route
Cons: not as scenic
Since I do a roundtrip and have driven the other routes before, I usually choose the Coquihalla in one or both directions.
2. Highway #3 through Manning Park and the Okanagan
Pros: so many
Cons: adds 2 hours of driving
Manning Park can easily be a few night destination in and of itself if you have the time. Lightning Lakes and the surrounding mountains are delightful to explore.
I usually go through the Okanagan on the way home because some relaxed wine tastings at world-renowned vineyards are a nice way to round off a hiking trip.
If you continue driving somewhere else after the Rockies, or fly out of Calgary, I recommend this route.
You can also save some time by combining the above two routes and skipping Manning Park: take the Coquihalla, then Highway #97C to Kelowna.
3. Highway #1 through the Fraser Canyon
Pros: the canyon is cool but you'll engage with lots of interesting geography later on anyways
Cons: adds 1 hour of driving
4. Highway #99 (Sea-to-Sky) via Whistler
Not recommended
Ski Whistler in the winter, but since you're headed to the Rockies you don't need to visit in the summer.
Banff will give you a sufficient taste of an outdoorsy tourist town and more importantly, the terrain you're headed to is much more rewarding.
Save yourself the 2 extra hours of driving.
Attractions En Route
On your way, consider brief stops at these highlights:
Bridal Falls
Directions: well signed just past Chilliwack.
Not a must do but good for stretching your legs if you were stuck in rush hour traffic.
Othello Tunnels
Directions: at the southern end of Highway #5.
Fascinating history behind these old train tunnels which have been converted into a walking trail.
Look down from the first trestle to see salmon jumping in the right season (I saw them late July).
This is usually my last stop before reentering city life en route home at the end of the trip.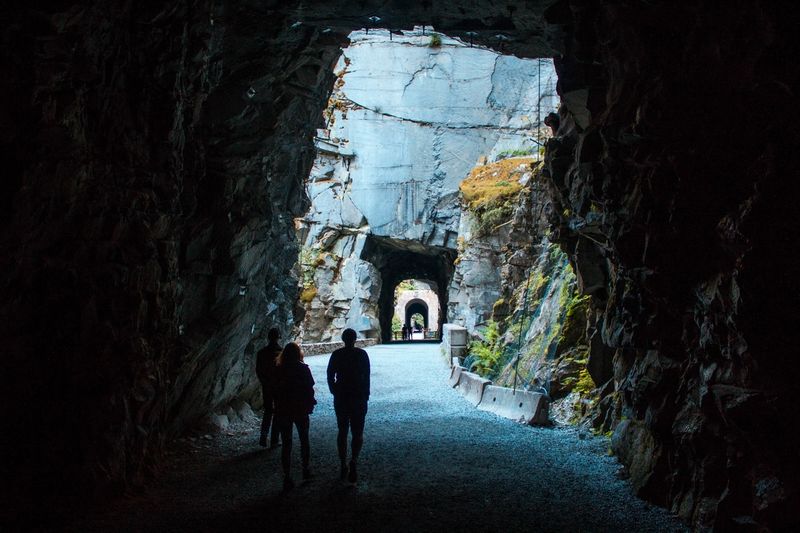 Lunch, Groceries, & Gas
The wilderness driving begins at the town of Hope so gas up.
Depending on your route, you'll pass through Merritt and Kamloops, or Penticton, Kelowna, and Vernon. You can stock up on groceries at any of these or in Revelstoke further on.
Sicamous
Before you hit Revelstoke you'll pass through the cute town of Sicamous, "houseboat capital of Canada", in which I personally enjoy stopping by the Narrows for a stretch and snack. Believe it or not, I liked this town before I discovered, at precisely the moment of this writing, that it has the same slogan as Hennessey Travels: Live More.
Revelstoke
Revelstoke is surrounded on all sides by the many ranges of the Columbia Mountains and a pleasure to drive through, but I don't recommend hiking in Mt. Revelstoke National Park: the access road is incredibly long and the bugs we encountered in July were dense, including lots of huge dive-bombing horseflies (you can see them in the photo gallery).
Glacier National Park
The big mountains start in Glacier, a fascinating area with a rich history (a stop at the visitor centre is highly recommended), and there are a lot of hikes in the area.
But beware, this park has a reputation for STEEP trails. This park feels to me a like a compressed version of the Rockies—denser ranges, and therefore steeper trails. For this reason I recommend giving the trails a pass if you're time limited.
If you add a day, I recommend Glacier Crest (12.7km round trip, 1,100m elevation gain, 4-6 hours) for in-your-face glacier & deep valley views: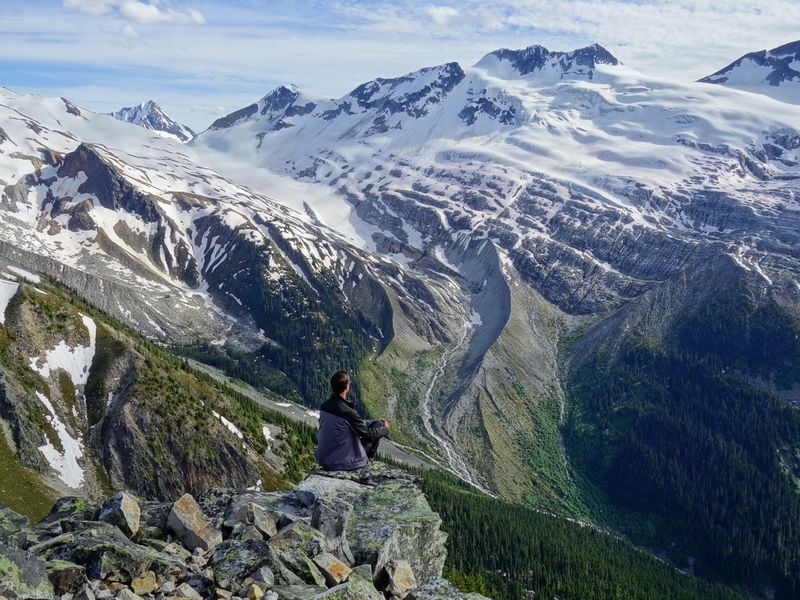 Abbott Ridge (15.9km round trip, 1,400m elevation gain, 4.5-6.5 hours) is even more highly recommended but I haven't personally had the chance as snow lingers longer and there's apparently one steep slope to be aware of so you need to time the season right.
I've also hiked Balu Pass (11.4km round trip, 860m elevation gain, 4 hours), a bear dense area (the trail and surrounding geography was named after bears after all…), but you only get the best views at the very end of this trail and they're not as striking as the other two, but the valley is still quite pretty.
Beware the elevation and mountain-weather nature of this park if camping. We had a huge thunderstorm roll through on my last visit: in under 30 minutes we went from sunny clear blue skies to pea-size hail and lightning every 15 seconds in an inky black sky.
Recommended Places to Stay near Glacier
Note: some accommodation links in this post are affiliate links to places we have stayed or would confidently stay. At no cost to you, we may earn a small percentage if you book through the link. These links help keep this site running–thank you for your support!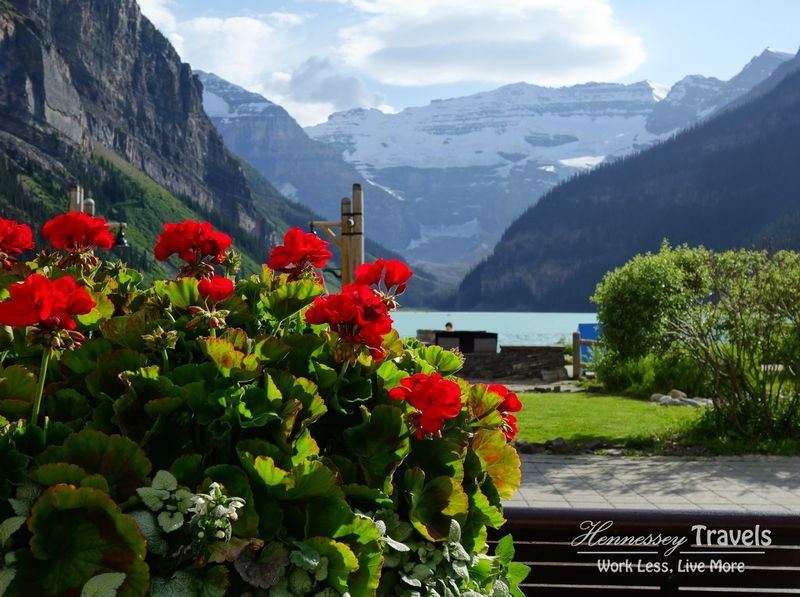 Day 2 – Lake Louise & the Plain of 6 Glaciers Hike
Today is your first day in the Rockies, and I guarantee it's a day you will remember for life. Iconic Lake Louise with the Victoria Glacier in the backdrop is pretty, but the best is to follow.
There is a lot of parking available and I never had a problem with an afternoon arrival but if arriving in the morning, an early start for less crowds on the trail and access to parking would be ideal.
Plain of 6 Glaciers & Beehives Hike
20km round trip, 1,140m elevation gain, 6 hours
You WILL encounter crowds. Huge crowds. This was probably the busiest trail I've ever encountered.
I still enjoyed the experience for the 4 Highlights I'll mention below, but if solitude is important to you, I would recommend replacing this hike with some other trails in this region, or nearby. In particular, consider Helen Lake near Bow Lake (16.7km round trip, 750m elevation gain, 5-6 hours).
I recommend a loop that will hit all of the primary features of the Plain of 6 Glaciers and Beehives trail system, but you can customize the plan to your desired distance.
Walk past the Chateau on the main trail around the lake (northwest side) and follow the right branch towards Mirror Lake and Little Beehive. You'll begin to climb towards the lake, and past the lake follow the right branch to the Little Beehive with views over Bow Valley (Highlight #1).
After a rest, head down to Lake Agnes (Highlight #2) and the cute Teahouse. The lake is a beautiful alpine tarn surrounded tightly by imposing cliffs: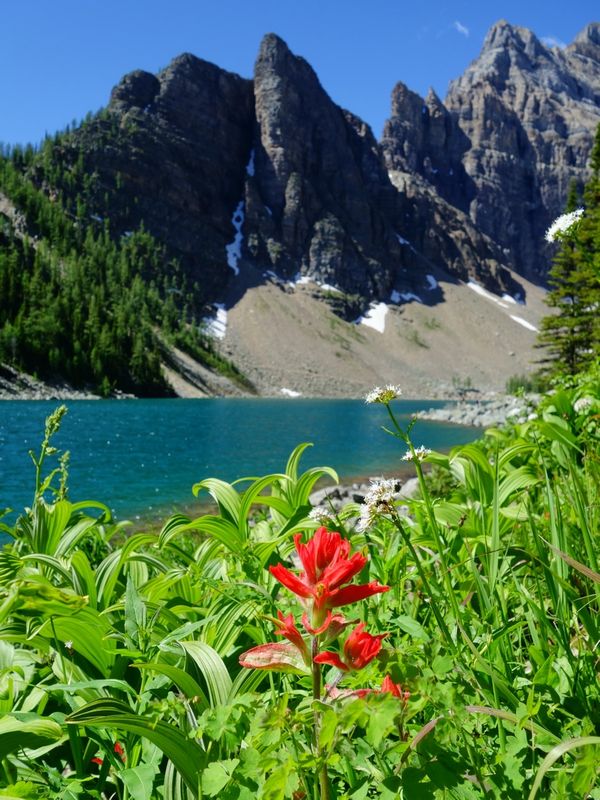 After travelling three quarters around the lake, you get to climb them! Take the short spur to the left to Big Beehive for a superior view down to Lake Louise (Highlight #3). I didn't realize there was a right spur to Devil's Thumb otherwise I would have climbed there too.
Your next destination is my favourite of the hike (Highlight #4), a close encounter with Victoria Glacier after marching a long way up the valley along the Plain of 6 Glaciers Trail:
Be sure to continue past the Teahouse for the best and most peaceful views.
Taking a dip in Lake Louise (or at least cool your feet) is the perfect way to wind down the day.
Recommended Places to Stay near Lake Louise
Day 3 – Banff Town & Hot Springs
You've heard so much about it and now you finally get to experience it–the mythical outdoorsy town of Banff.
You'll be able to shop to your heart's content, satisfy almost any culinary craving, and soak in nature while keeping your toes firmly rooted in the comforts of town.
Banff is just 45 minutes / 60km from Lake Louise, but add the extra half hour to drive the Bow Valley Parkway with a stop at Johnston Canyon. Wildlife spottings along the Parkway are extremely common so stay alert and watch your speed.
Johnston Canyon Walk
I consider walking these canyons (Johnston and/or Maligne near Jasper) a must.
You'll be surrounded by reminders of the power of water–you can feel it, hear it, see it, and learn about it. Fascinating and a great way to stay active and see something new in between hiking days.
 Johnston Canyon or Maligne Canyon?

If you only have time or interest for one of these two canyon trails, many people lean towards Johnston Canyon.

It's flatter and has some extra unique features like ducking through the rock itself to one waterfall viewing platform, and the boardwalk is heavily developed (often metal construction attached to the cliff).

On the flip side, Maligne Canyon feels a bit more remote and wildernessy, and you can link trails to create your own loop and desired distance.
Banff Upper Hot Springs
Similar to the canyons, no trip to the Rockies seems complete without at least one hot springs soak. The most accessible of these are the Banff Upper Hot Springs just 4km south of town on Mountain Ave.
The pricing is affordable and swimsuits, towels, and lockers are available to rent, so there's no reason not to treat yourself.
Recommended Places to Stay near Banff
Day 4 – Icefields Parkway
This itinerary has you driving the Icefields Parkway both directions instead of creating a loop through Wells Gray. Why? I've done it both ways and driving the Parkway a second time is the unanimous best choice.
Such is the beauty of the Parkway that even if you saw the same views twice it would still be worthwhile, but driving the opposite way affords a whole new set of mountain views and potentially different weather conditions.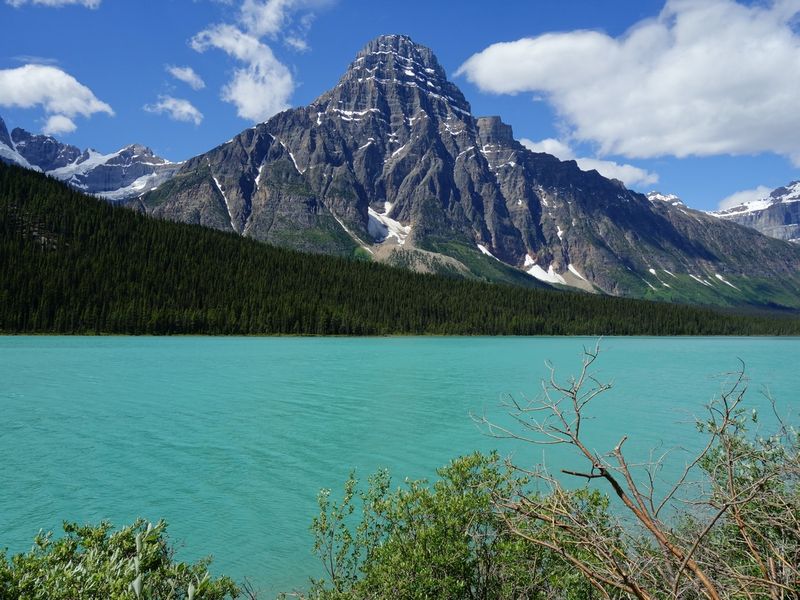 By doing this you can also spread the many worthwhile stops over several days and include a number of hikes, instead of feverishly rushing through.
In my opinion, the first (south) 130km of the drive is the best, so take your time and ENJOY!
Crowfoot Glacier & Bow Lake
This remarkable glacier cascades down several terraces of rock, creating the resemblance of a crow's foot, though a little less so since the bottom "toe" split off in a great avalanche in the 1920s and through recession.
Pull over at the viewpoint and again at Bow Lake for a variety of vantages and photo ops.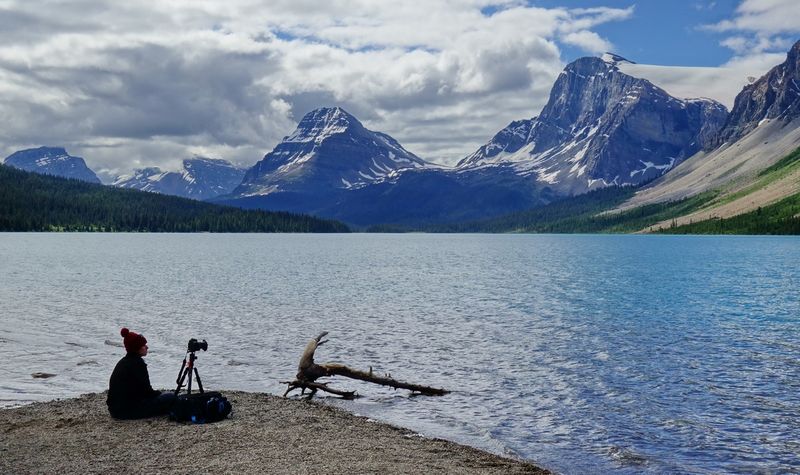 Bow Summit Walk
Just a little further on you'll find probably one of the two most famous viewpoints in all of the Rockies. I speak of course of the view over glowing Peyto Lake and down the Bow Valley.
Choose your own selfie adventure! I tried to capture some of the most stereotypical mountain poses just for you.
The other most famous viewpoint is Moraine Lake from the rock pile–please comment below if you have another view to add to this exclusive list 🙂
A busy parking lot and tourist trail (ie: paved path) leads quickly to the viewing platform. I strongly suggest walking straight on past the densely packed crowd here.
You can bear right for a quieter snack and photo spot amongst the boulders, or follow the small tourist loop to the highest point of the loop at which point you branch off and head straight uphill. The trees will soon give way and you can find some views all to yourself.
Mistaya Canyon
One of two must-see canyons on the Parkway, Mistaya Canyon ("grizzly bear" in Cree) is a zigzag slot carved deep into the rock.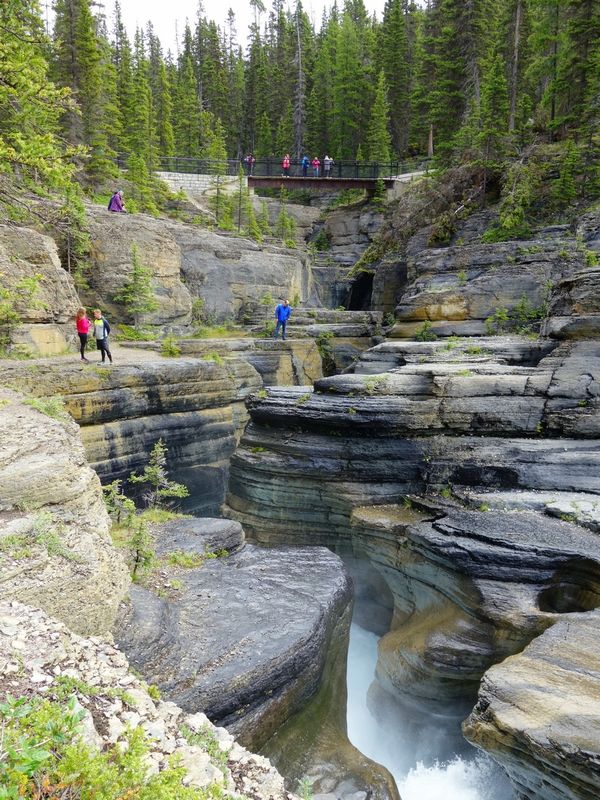 Across the bridge you can get near the water's edge and experience its power and intricacies from many different angles.
This also gives you a chance to take a photo fitting for some outdoor mag looking towards Mount Sarbach standing at 3,155m (10,351ft):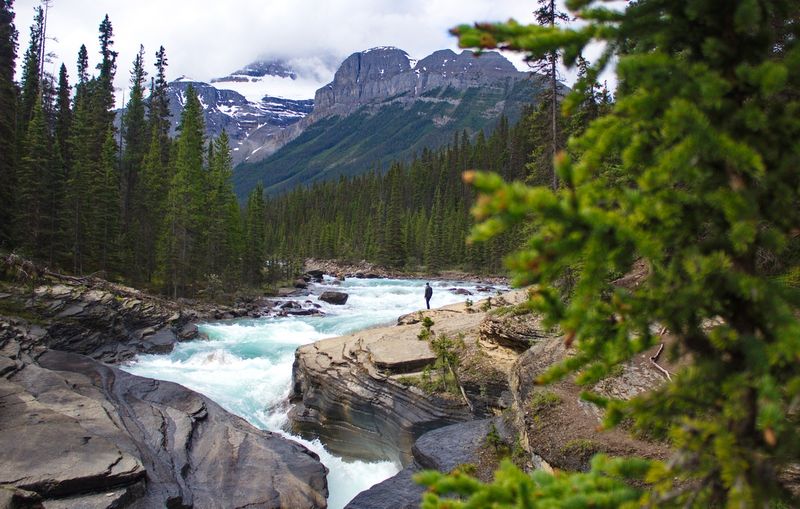 Shortly after Mistaya Canyon you'll cross the bridge over the Saskatchewan River, where I also enjoy stopping.
Sunwapta Pass
This is a one-of-a-kind hill climb in a car–the mountain on your right (when looking back south) looks like it's melting. Be ready to pull over or you might miss the chance.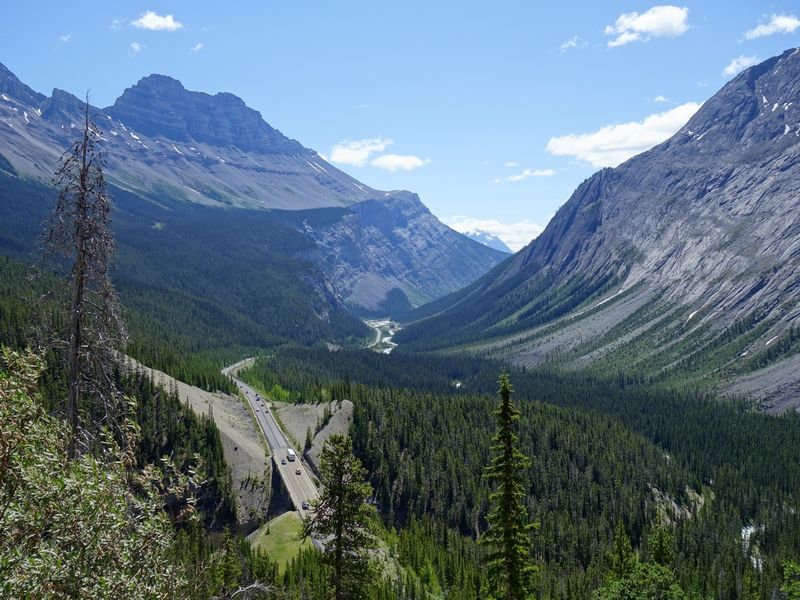 Here you find the boundary between Banff and Jasper National Parks, and the division of watersheds–water that falls north of you will eventually reach the Arctic Ocean, while water that falls south of you will cross the prairies to the Atlantic Ocean. The actual Continental Divide is just a short distance west.
But please watch your speed on the way back! The police patrol this short stretch aggressively, which has a steep grade and a sudden and unexpected reduction in speed limit. Not a pleasant vacation expense if they catch you.
Parker Ridge Hike
5km round trip, 270m elevation gain, 2 hours
Never has there been such a short and accessible hiking trail to such a set of rewards!
Well, I'm sure there are others but I've yet to encounter them.
This trail is a MUST DO, especially since you can fit it in so easily. A lot of people debate between hiking Wilcox Pass and Parker Ridge, but I can easily settle that debate for you. Parker! You can practice this tongue-twister while you hike: "Peter Parker picked a pano of praise-worthy peaks."
I injured my hip quite badly the day before I did this hike and I couldn't even take a step without significant pain. But never one to let a hiking opportunity escape, I hobbled up this path, straight-legged, slow jarring step by slow jarring step, and it was worth every step.
You have a view of Mt. Athabasca from a special angle the whole way up…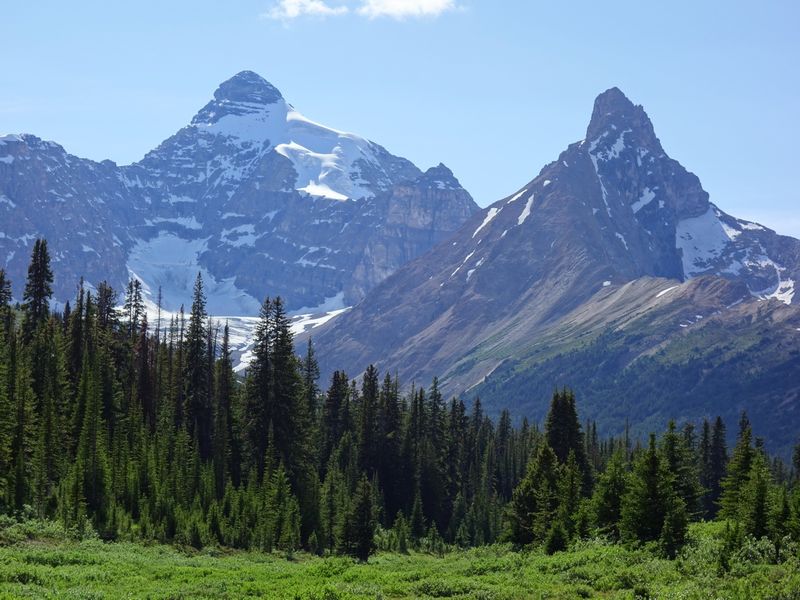 …and from the ridge above you get an intimate view down into an otherwise invisible valley carved by the Saskatchewan glacier which you'll see looming in the distance as part of the Columbia Icefield. This glacier view is so much more meaningful to me then seeing the Athabasca Glacier from the road.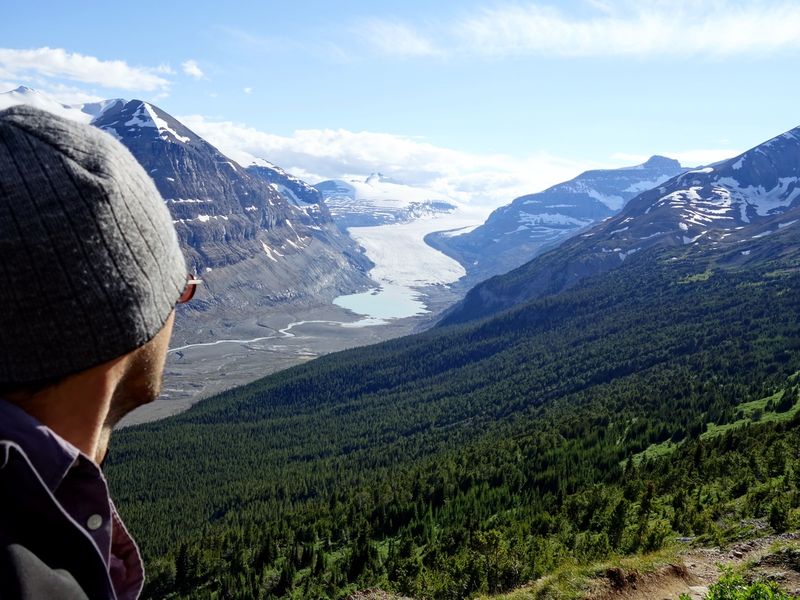 And amusingly, at the top of the hike something adjusted in my hip, relieving nerve pain and starting the healing, so how's that for the positive energy of Parker Ridge?!
Run up Wilcox from camp after sunrise or before sunset as bonus if you are inclined and be rewarded with an elevated view of Athabasca Glacier.
Athabasca Glacier & Icefield Centre
A short walk brings you close to this huge glacier, but so much recession has left it brown and gritty down there.
The Icefield Centre is definitely worth some time, even if just for food and Wi-Fi, and you can book a trip onto the glacier itself if you wish.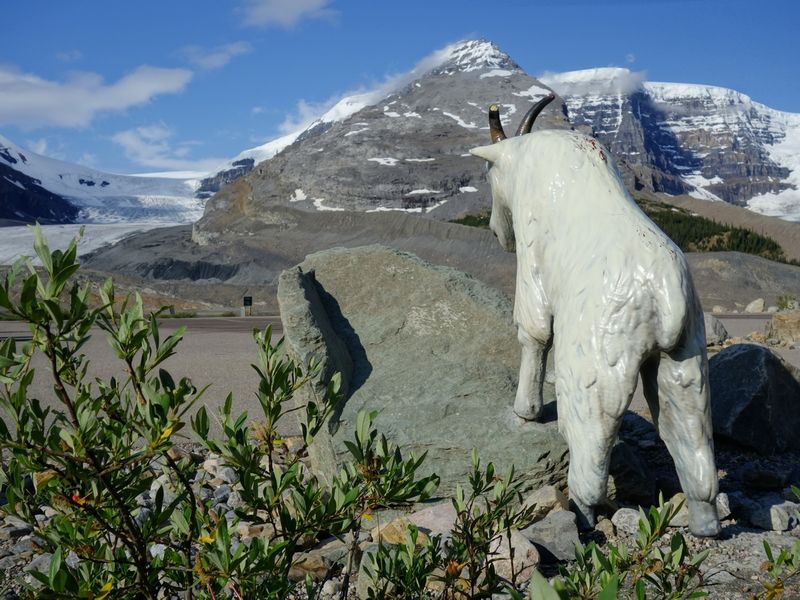 Recommended Places to Camp on the Icefields Parkway
Day 5 – Jasper & Maligne Lake
Sunwapta & Athabasca Falls
En route to Jasper don't miss Sunwapta Falls. A++ falls with a killer photo op from the bridge.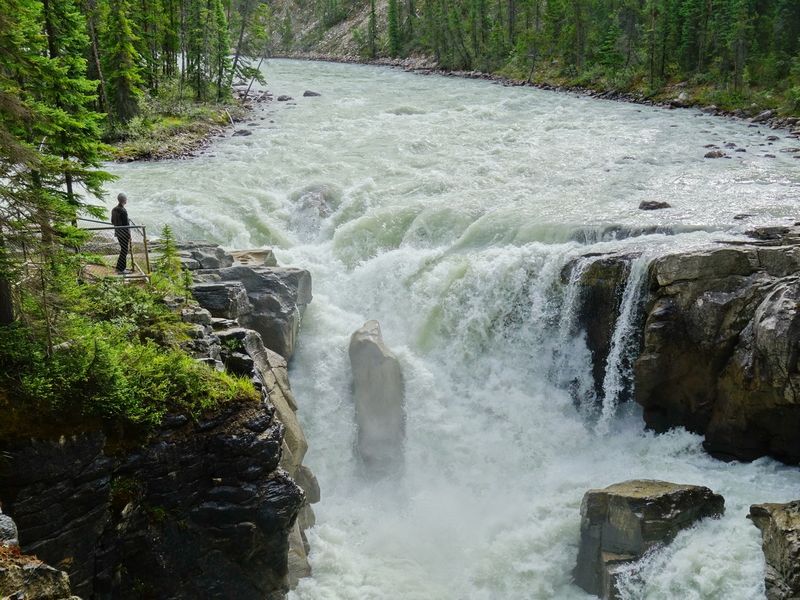 No reason not to stop at Athabasca Falls too, but not as necessary as Sunwapta or Mistaya.
Jasper Town
Jasper personally suits me more than Banff. Smaller, quieter, much less touristy. But I spend all my time in the mountains anyway, only using town for groceries.
Take advantage of the opportunity to dine out while you can!
I also strongly suggest making Bear's Paw Bakery (either Paw…seriously, there's two) part of your daily routine.
Maligne Lake
There are quite a few quality mountain and lake views along this road, but also WILDLIFE.
I saw more bears along the access road to Maligne Lake than any other road on my trips, so keep your eye towards the trees…and right in front of you!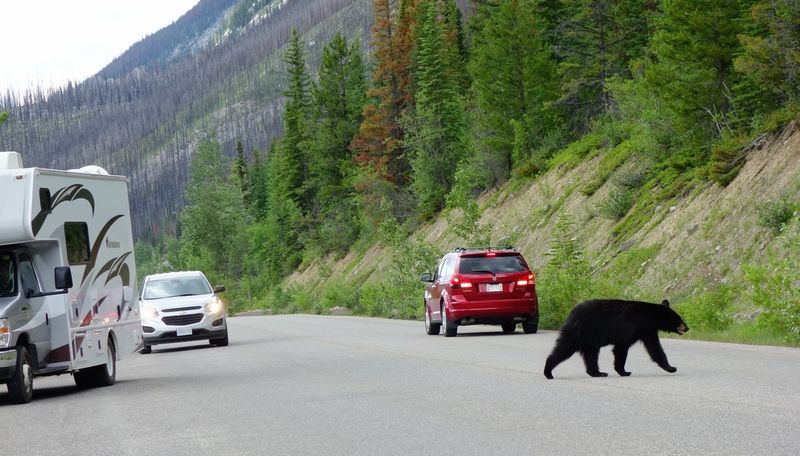 Just please be considerate of other cars when pulling over. You'll notice that as soon as one car pulls over, everyone else stops, and if there's actually something significant to see like a grazing bear, the road becomes a huge mess of dangerous and inconsiderate behaviour.
Cars semi-stop in the middle of the road for drivers to push their cameras outside of their windows while rolling forward, and cars try to leapfrog each other to keep pace with the moving animal, turning a 2 lane road into a 5 lane blockage.
The best etiquette is to pull over where it's safe to do so and remain there awhile. Assess the situation before deciding to leave your vehicle on foot, being mindful of the "wild" aspect of wildlife.
Bald Hills Hike
13.2km round trip, 700m elevation gain, 4 hours
Maligne Lake is a wilderness playground, with many hike and water-based options. A common decision is between Opal Hills and Bald Hills. The Bald Hills hike was specifically recommended to me.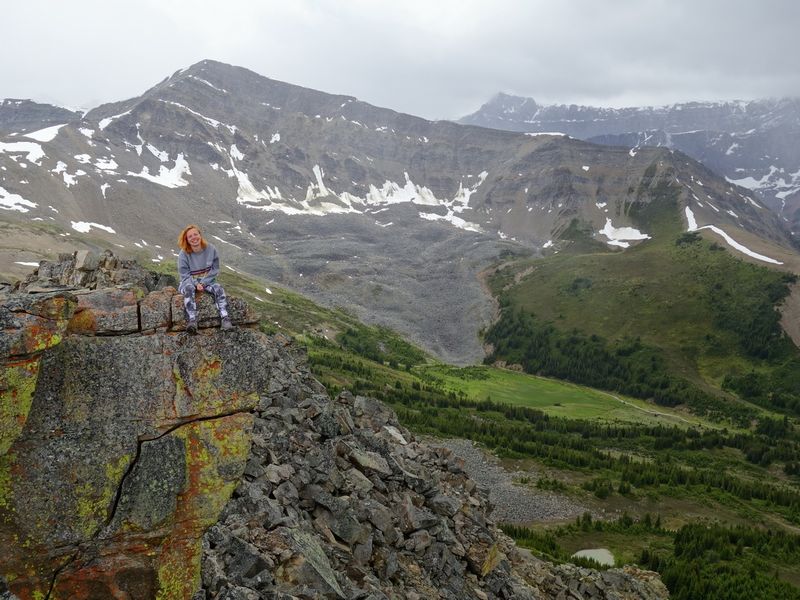 On my last Rockies trip, I was snowed on at the top of almost every hike…in late July! But only on the Bald Hills did we encounter a full-fledged snowstorm, with half an inch of snow accumulating on our packs and hair within minutes. A good reminder to always dress for all weather when in the Rockies.
This particular hike is more about the destination (or at least the upper half of the hike) as the access is along a not particularly pleasant fire road, though it didn't bother me much in light of the hike as a whole. I'm used to most hikes having some element of grind investment required for rewards to follow.
Once above the tree line there are constant scrumptious  views of the mountain chain on the opposite side of the lake which cameras struggle to properly capture. The many posing marmots however are much easier to represent.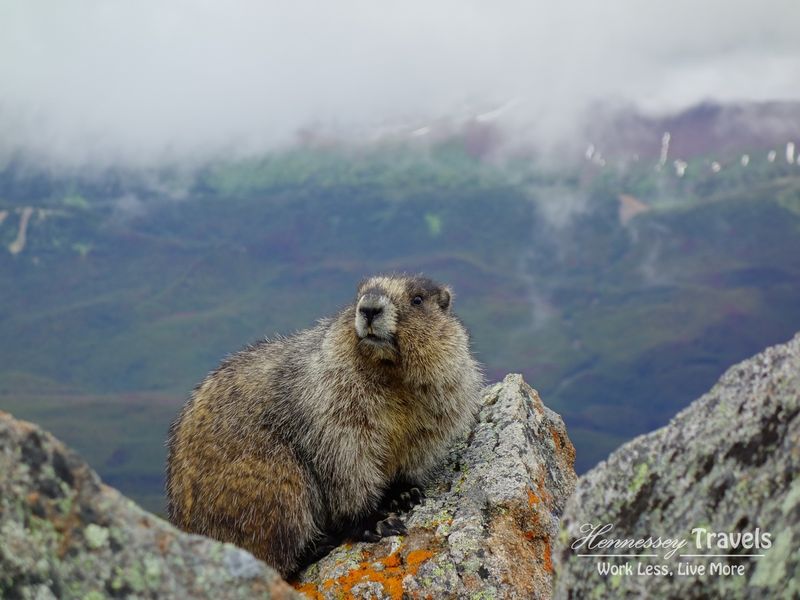 You'll reach several minor summits which each provide views of so many different mountain features in every direction. I found it hard to head back down, but the extremely changeable weather (now sun, now rain, now snow, now sun) and temperature hovering near freezing made it a bit easier.
Watch out for bears. And pika!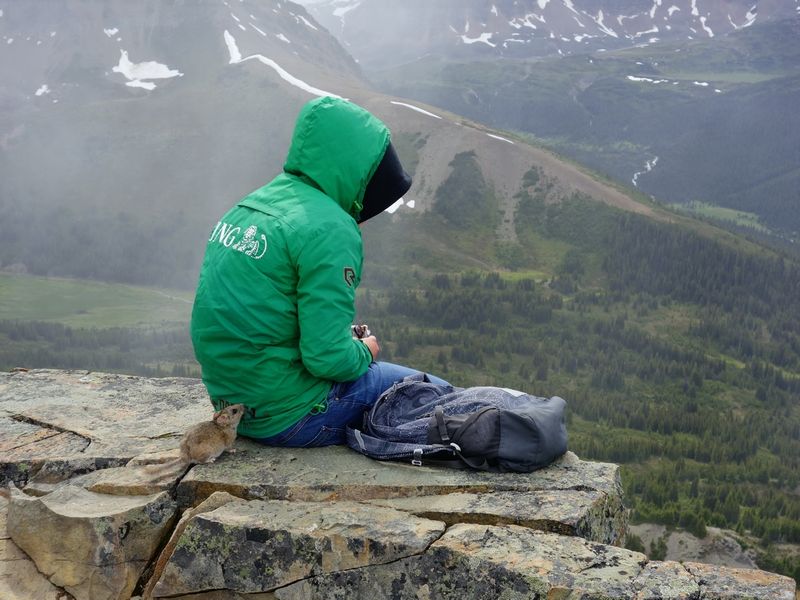 Recommended Places to Stay near Jasper
Camping
Whistlers (currently closed for upgrades)
Reserve ahead
Wabasso or Wapiti 
Reserve ahead
Snaring River
Panoramic views, my go-to spot, first-come
Pocahontas
If you want to be closer to Miette Hot Springs; reservable
Day 6 – Maligne Canyon & Miette Hot Springs
Maligne Canyon
This canyon is awesome. On my first visit (and also my second despite being prepared), I was shocked at the DEPTH of this canyon.
You assume it's deep, and you start looking down, but your eyes just keep encountering new layers of chiseled rock, and you look further and further down, expecting to see the rushing water that you can hear, but you have to keep directing your eyes deeper and deeper until you're looking almost straight down. It's THAT deep.
This Canyon Trail is steeper than Johnston Canyon and the rock can get a little slick in places from all the foot traffic. I enjoyed how you can crisscross the canyon on various bridges and make figure 8 loops, or even walk a one way (downhill of course) and hitchhike back.
If you're not going to go to the hot springs and you want to shave a day off your trip, this walk can easily be added to the end of the last day's itinerary.
Miette Hot Springs
More remote feeling, and certainly more remote in actuality (2 hour round trip drive), these hot springs make for a pleasant excursion if you have the time or happen to be in the area hiking Sulphur Skyline (7.7km round trip, 650m elevation gain, 2-3 hours).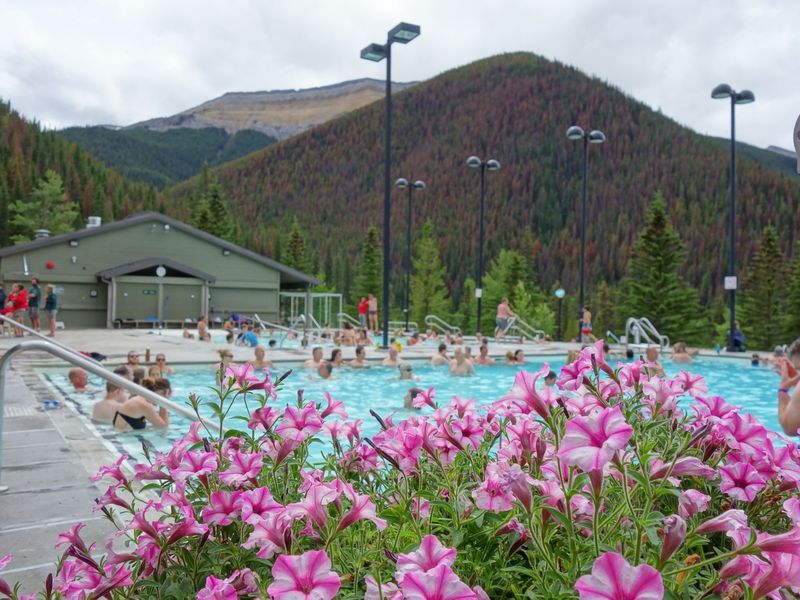 Distance aside, I prefer these hot springs to the Upper Banff Hot Springs.Plus you get great bathing company: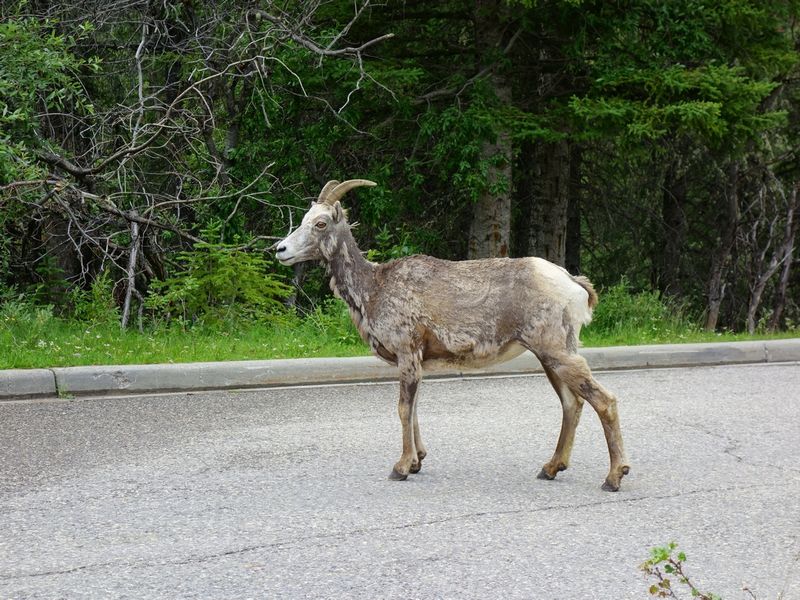 These guys are everywhere and kind of look like they could use a bath too!
Two alternative activities to Miette Hot Springs:
Whistlers & Indian Ridge Hike (optional)
If hiking up a mountain has been too intimidating, check out the gondola access to the Whistlers.
Or, if you don't need a rest day today and you prefer to start your hike from the TOP of the Whistlers, consider Indian Ridge (12.7km round trip, 970m elevation gain, 4-5 hours) which comes highly recommended though I haven't personally had the chance. Beware a loose sketchy section at the end.
Mount Robson Provincial Park (optional)
The mountain is AWEsome!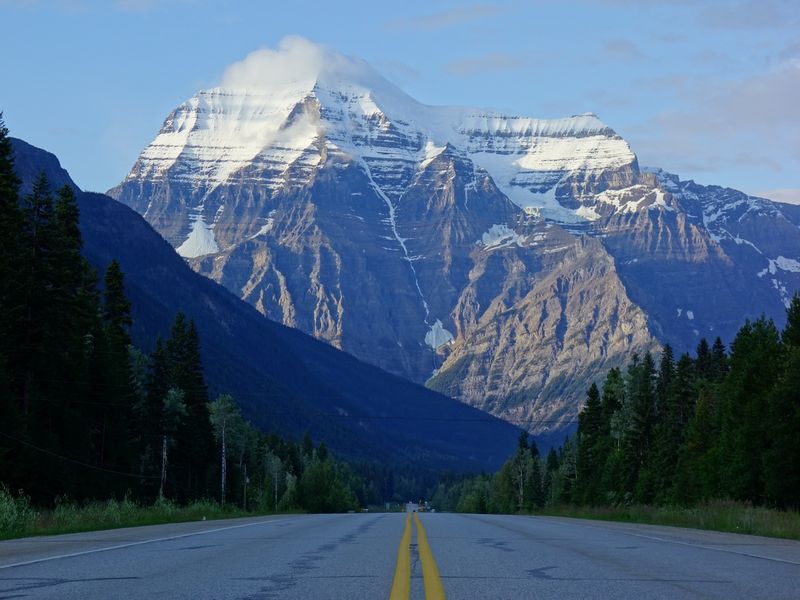 But the park is a bit out of the way and there's not a ton to do unless you're hiking the multi-day Berg Lake Trail (37km round trip,  3+ days).
See Day 5 for Places to Stay near Jasper
Day 7 – Mt. Edith Cavell
9.3km round trip, 830m elevation gain, 3 hours
I really didn't feel the elevation on this one, strange. Maybe it's because the hanging Angel Glacier is just too entrancing to the eye.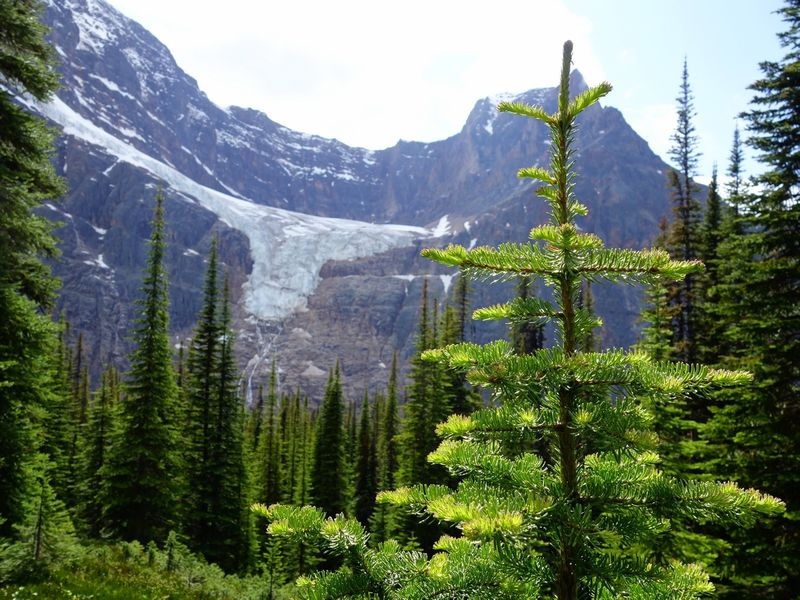 It felt more like a walk than a hike, maybe partly the fault of the over-developed paths lower down, and was over too quickly, but it's noteworthy for providing such a close encounter with a raw Rocky Mountain. It's totally in your face.
The lake ("Cavell Pond") full of icebergs is also a blast, make sure you don't miss it!
You can use the rest of this day to fit in anything that you missed along the Parkway, or to have some more time in Jasper. All you have to do is get to the Bow Lake area, or back to Lake Louise, and chill so you're fresh for the best and last hiking day tomorrow.
More Places to Camp on the Icefields Parkway
Silverhorn
denser first-com sites but better views
Waterfowl Lakes
more private (treed) first-come sites
Or any sites south to Lake Louise or north to Wilcox
Day 8 – Moraine Lake
We saved the best for last. Of course this is a purely subjective opinion, but I'll stand by it!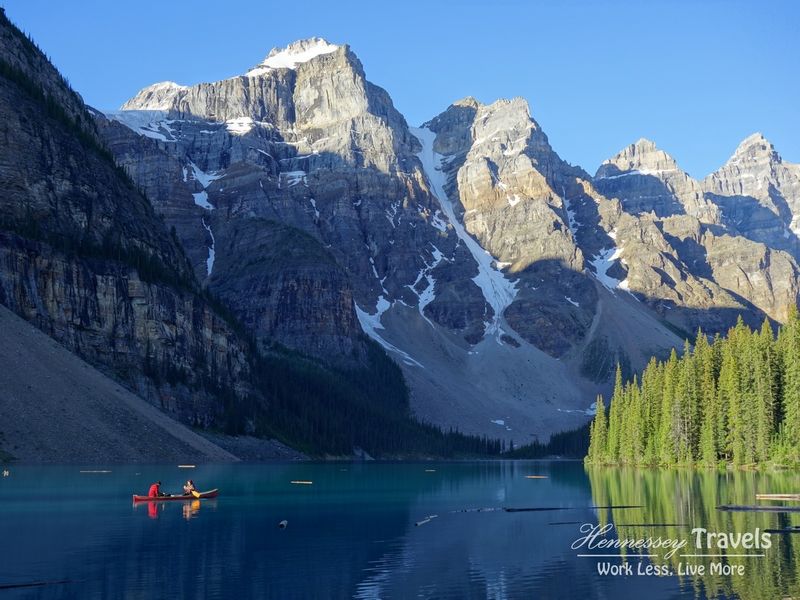 How to Enter Moraine Lake
Moraine Lake, with its postcard-perfect view accessible within a 5 minute walk of where the tourist buses unload, is so popular that access is a great challenge.
However, in this case it's popular for a very good reason, and I encourage you to persevere. Look at this happy guy: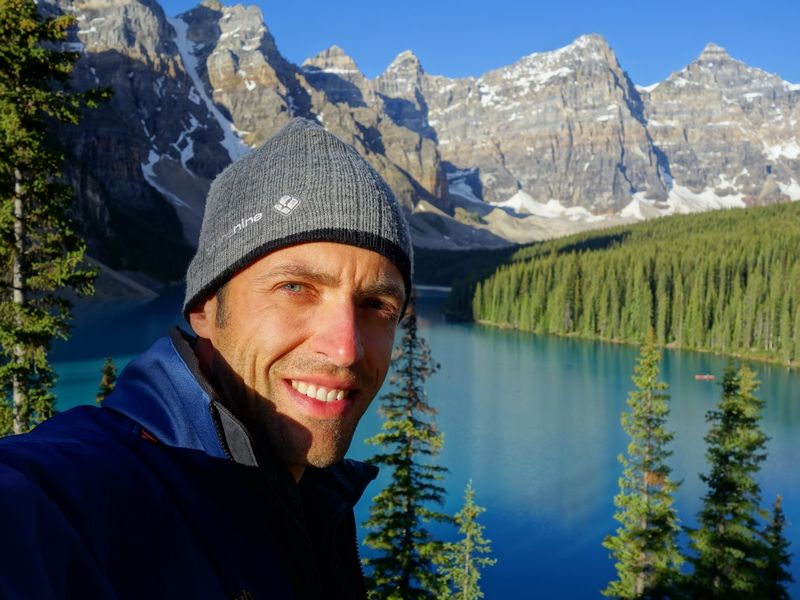 The parking situation is really quite ridiculous; once the lot is full the traffic controllers block off the 15km long access road, with nowhere to park or queue near it. They recommend you drive back and forth hoping that it will open just as you pass. How logical or sustainable is that?!
And even after you get in, if the actual lot is full, they ask you to drive most of the way back, wait awhile, and return every half an hour hoping some spots have opened.
Each year the recommended entry time gets earlier by half an hour or more it seems. Last time I went, it was something like 5am.
Part of the issue is the sunrise crowd. The lot was definitely full long before sunrise, but shortly after I noted lots of open spaces. The problem is, you don't know when the traffic controllers will let in the next batch of cars.
Were I to go again, I think I'd just aim for mid-morning or early afternoon, or maybe even hike over using the Paradise Valley trail and hitch-hike back.
There's also a shuttle, but to get tickets you still have to rush and queue and hope, and then lose freedom to depart when you wish, so I haven't pursued that option.
Sentinel Pass Hike
10.9km round trip, 790m 

elevation gain, 

2-3 hours
There are two very very nice hiking trails that share the same start from the Moraine Lake parking lot.
I recommend heading up Sentinel Pass first for an elevated view of the Wenkchemna peaks that flank the lake, and to get the stairmaster over with.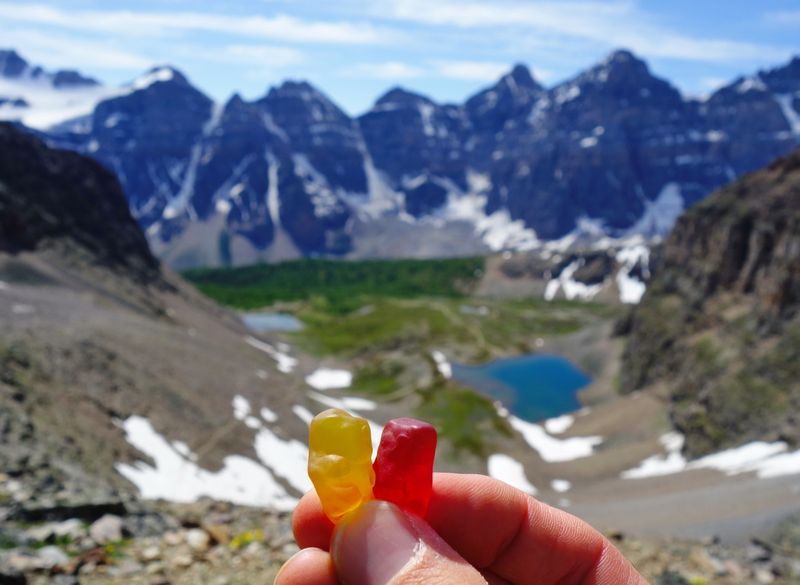 (Some sweet hiking partners, entrusted to me by my thoughtful daughter before the trip. This photo was for her.)
Unlike most hikes that provide their greatest reward at the end (top), as soon as you're out of the trees and can enjoy the peaks, you can consider achieving the pass optional depending on your level of fitness and inspiration and remaining plans for the day.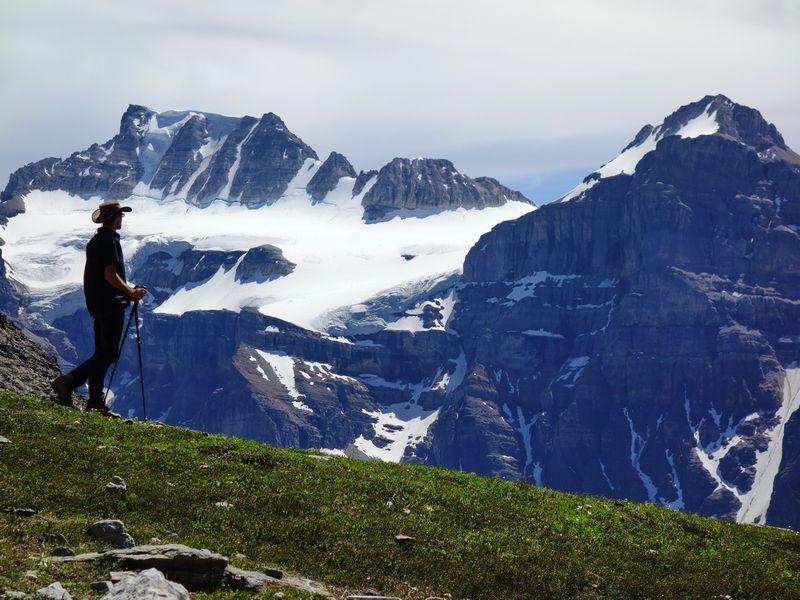 The first photo of this post (me in the trees with two peaks behind), under the cover photo, was also taken just as the trees begin to open up, quite far below the pass.
Wenkchemna Pass Hike
17.4km round trip from Moraine Lake, 1050m elevation gain, 6+ hours
(less from the trail junction to Sentinel Pass)
Once you get back to the fork, I strongly recommend traversing sideways along the lake and chain of peaks towards Wenkchemna Pass. You get bonus time up close and personal with each of the Wenkchemna peaks.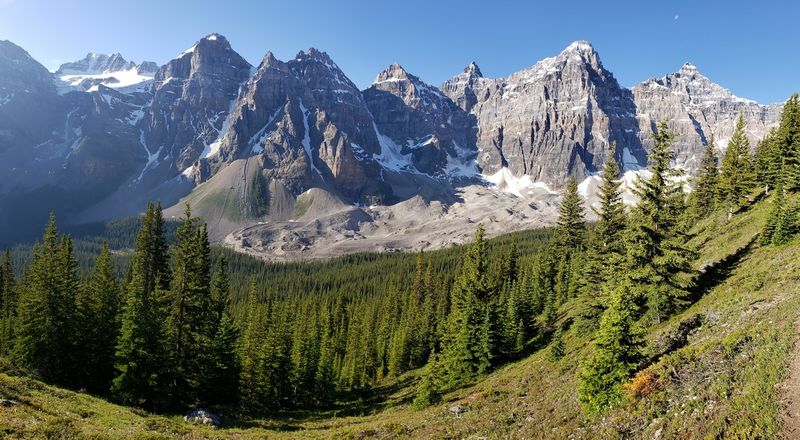 Seriously! I'm not the only one who sees that face am I?!
It's pretty easy going until the final climb to the pass, which, like Sentinel Pass, can be considered optional as the views you've had are far superior to the austere valley view on the other side of the pass.
You can really turn around anytime without regret. But if you get to the top, I'm sorry to say but you HAVE to do the dance 😉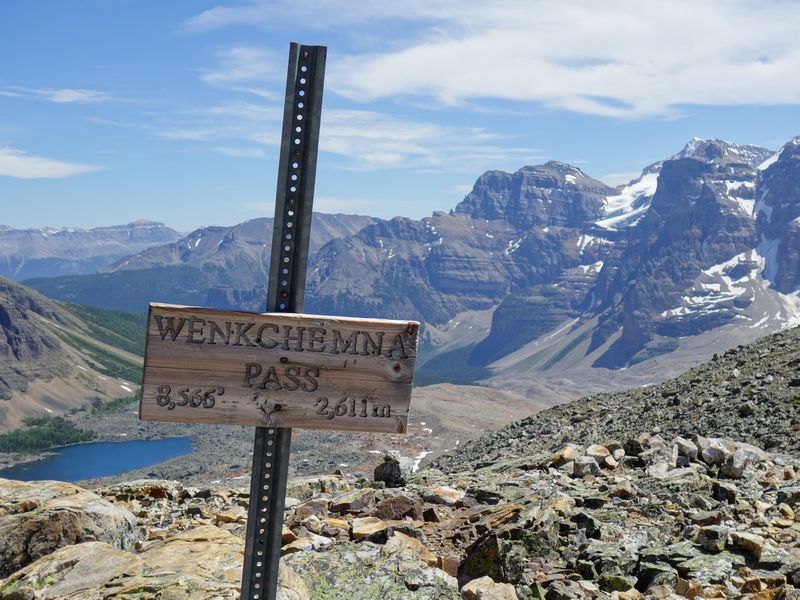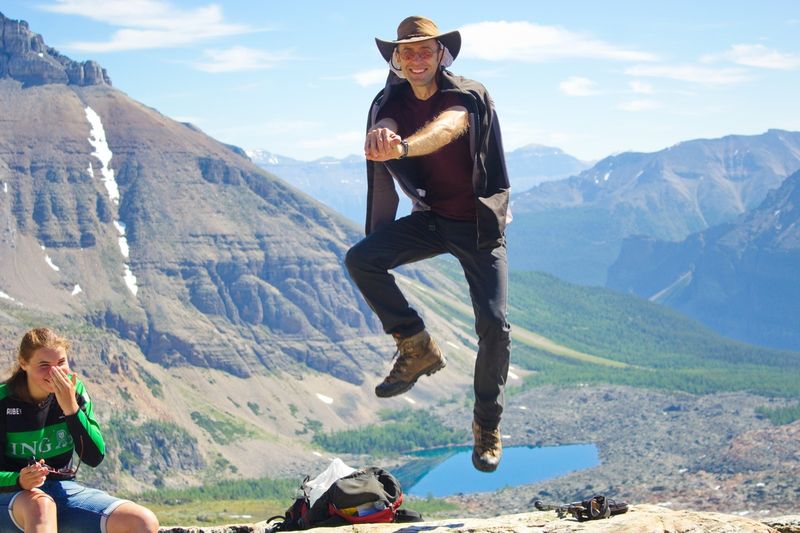 See Day 2 for Places to Stay near Lake Louise
Day 9 – Okanagan & Wineries
Even though I'll choose beer over wine 19 times out of 20, I do enjoy wine and I certainly don't feel like my Canadian Rockies trip was complete without hitting up at least three wineries on my way back home.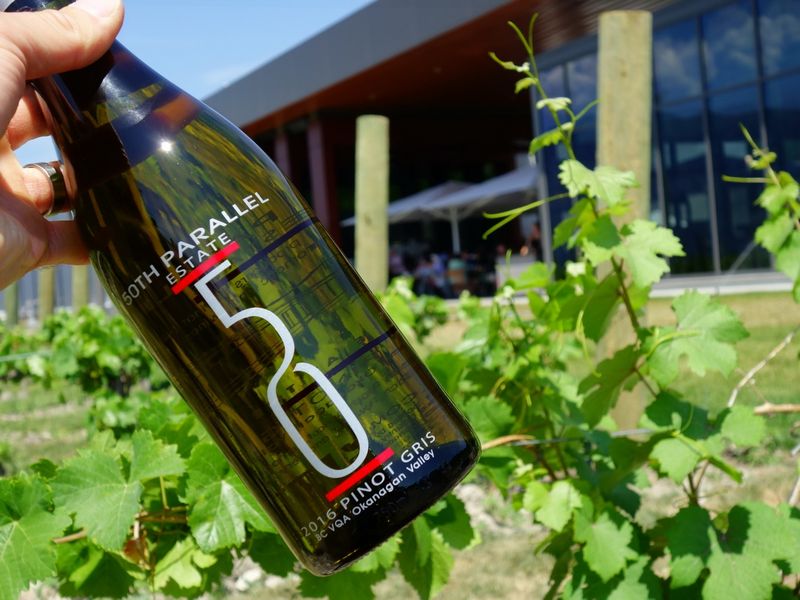 You have so many choices! Vernon, Kelowna, Penticton, so many options in each. Here are a few recommendations to get you started:
Recommended Places to Stay in the Okanagan
Camping
Lots of options, but mostly privately run & busy so unfortunately you just have to see what's free
Day 10 – Return to Vancouver
It's always hard to end a trip, but I guarantee that after an itinerary such this, you'll feel like you experienced at least a trip and a half, and that your days were used to best advantage, full and satisfying.
Recommended Places to Stay near Vancouver
Responsible Travel
I hope you'll consider offsetting the emissions from your trip to help preserve our special natural spaces for our and future generations' enjoyment.
This trip is roughly 2500km. The average vehicle consumes 9.4L/100km, and 1L of gas produces 2.3kg of CO2. Therefore driving produced 540.5kg, which only costs about $10 to offset. If you flew, you can also calculate your flight emissions.
As offsets are so inexpensive, I've produced so much earlier in my life and continue to do so, and we're not doing nearly enough, I personally try to offset at least double what I calculate.
To begin offseting, check out the Gold Standard, which is supported by more than 80 non-governmental organizations worldwide including WWF International, Greenpeace International, the Pembina Institute, and the David Suzuki Foundation.
Gear
For lightweight travel, I highly recommend the Sony RX100 (affiliate link)–it can fit in your pocket and takes great photos, even in low light, due to the large sensor. There are 7 generations so far so you can choose one to fit your budget.
Get in Touch
Please leave a comment below letting me know how your trip went! Assuming you didn't get eaten by a bear…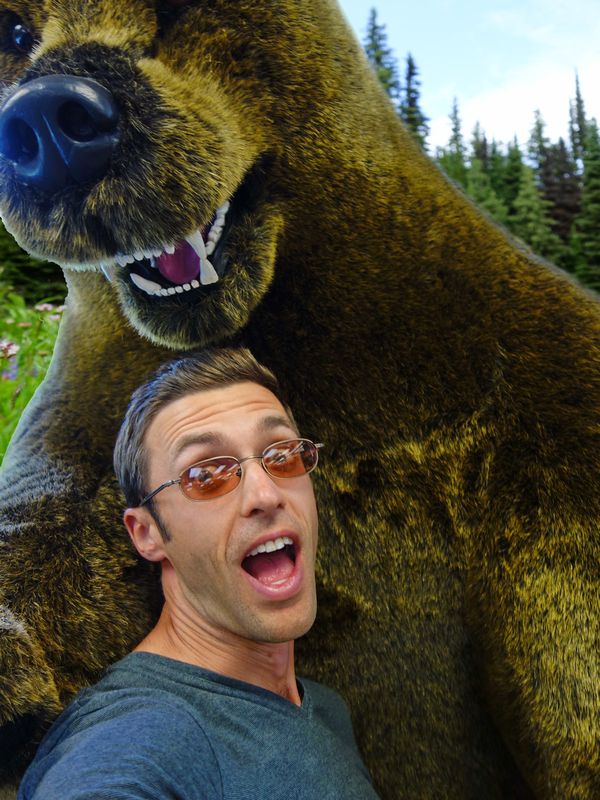 Affiliate Disclosure: Some links on this page are affiliate links to products or services that we personally use or would confidently use and believe in. At no cost to you, we may earn a small percentage if you make a purchase. These links help keep this site running–thank you for your support!